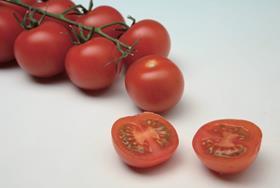 The effect of Covid-19 on shopping habits, including frequency, means that retailers must be prepared to adapt their offer in order to control supply and avoid food waste, according to HM Clause.
The seed company stated that an improved range of tomato varieties that combine an ideal shelf-life and optimum taste can drive sales.
The company has been breeding tomato varieties for over 80 years. Its cherry tomato research team has been conducting numerous trials in Spain, Italy and Morocco aimed at breeding varieties adapted to its vegetable-producing customers.
The champions of Clause's cherry tomato range, Genio, Creativo and Dolcetini, are now available year-round and benefit greatly from a combination of an ideal shelf-life and a great taste, according to the company.
"Our task is to provide varieties that can be appreciated by all links in the chain,' said Manuel Ferrer, food chain specialist at HM Clause. 'Therefore, we actively collaborate with everyone so that the client can receive products with good organoleptic qualities and premium quality and taste, which are what the final consumer demands."
In other product segments, including round, beef and elongated tomatoes, HM Clause revealed that it was also driving its variety breeding programmes towards a combination of optimum shelf-life and organoleptic quality.
Recent product launches include the red ovoid Harrison tomato, which was launched in Spain last year, the Kabrera beef tomato, launched in Spain and Italy, and the round Badira, produced in Morocco.
According to the company, all varieties perfectly meet the requirements of both food retailers and consumers in terms of both shelf-life and taste.