The new cucumber season has kicked off at Belgian cooperative BelOrta, following a positive performance in 2022 thanks to the hot summer and the vegetable's healthy image
Belgian cooperative BelOrta marked the start of the new cucumber season with the first sale of 2023, supplied by Ties Verbaarschot of Someren in the Netherlands and purchased by Fruithandel Sebrechts of Broechem.
Last year, BelOrta sold 122m cucumbers for the fresh market, down on 2022's volume due to a reduction in the production area and high energy costs. The cooperative also sold 1m units of Crunchy King mini cucumbers, while 5,000 tonnes of cucumbers were bought by the processing industry.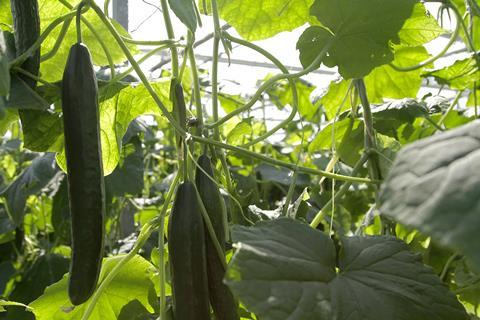 According to BelOrta, the past year saw vegetable sales fall due to increased out-of-home consumption following the recovery from Covid. However, cucumbers have seemingly been an exception.
"All in all, cucumbers held up well and even recorded higher consumption than in the pre-Corona era," the cooperative stated. "For example, consumption in 2019 averaged just 1.02kg per person, while in 2022 it was 1.32kg, according to figures from GFK Belgium, or almost one extra cucumber per year."
This increased demand for cucumbers is a result of the warm summer, BelOrta revealed, making consumers more likely to grab a fresh cucumber for salads. "In addition," it said, "younger consumers increasingly see cucumbers as a healthy alternative to a snack."