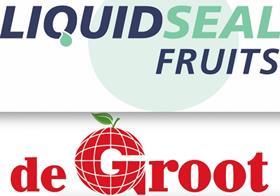 Liquidseal Fruits has announced an agreement with The De Groot Fresh Group, that will see De Groot use Liquidseal's chem-free post-harvest products for their global citrus imports.
The cooperation agreement means that De Groot uses Liquidseal's bio-based processes in its production facilities, as the group strives to achieve improved product quality and reduce food waste.
De Groot is aiming to optimise product quality and reduce the need for chemicals, with the agreement allowing De Groot 'to be at the frontline of offering high quality and environmentally friendly products'.
Liquidseal provides protection for fruit during every step in the supply chain, with the results being are an extended shelf life, maintained product quality and reduction of product loss during the process of post-harvest, transport, storage and sale.
In addition, the post-harvest products for avocado, citrus, mango and papaya are environmentally friendly, biodegradable and compostable.

According to De Groot, it has recently invested in its own, in-house, on-site laboratory, creating a further guarantee for quality and food safety.
With this and the addition of the Liquidseal collaboration the group is looking to maintain its position as a forerunner in the European/UK fresh citrus supply chain.