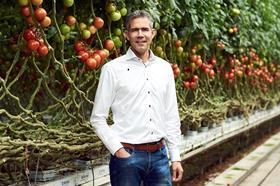 Five years on from its foundation, Dutch glasshouse produce marketing organisation Door Partners says its members are aiming to expand their combined production to 800ha by 2020.
The Maasdijk-based group, a wholly owned subsidiary of the Door cooperative, marked its fifth anniversary at the start of July, insisting its commercial model is very much on the right path as far as securing value in the market for products supplied by an increasing number of member growers.
In the past five years, Door's members have together doubled their planted area to 553ha, while product turnover has risen to €353m.
Now, the group is aiming to expand its production further, and at the same time strengthen the market position of its brands, which include Purple Pride aubergines, Green Diamonds cucumbers, PapriCo bell peppers, Prominent tomatoes, SweetPoint sweet pointed peppers and Greenco snack vegetables.
"From the beginning, the strategy was aimed at strengthening our brands and our members, and it proved successful," explains Door director Jan Opschoor.
'Door invests in the development of its brands and acts as a platform for collaboration and knowledge sharing," he continues. "But most importantly, our organisation is supported by progressive and entrepreneurial growers, who are willing to invest in innovation and marketing.
"Every brand has its own identity, but function at their best under one umbrella. That is the strength of our organisation."
Door's target to add a further 250ha in just two years is indicative of its recent success, which is all the more impressive given the Dutch glasshouse vegetable sector's much-documented travails over the past decade.
Competition in the sector remains fierce following a period of major upheaval that has seen the formation of various new marketing groups, as well as several grower organisations deciding to switch to rival marketers.
But Door is already closer to its expansion target after Prominent took over the sale of tomatoes grown by Mondial, a group that comprises three individual suppliers – Van der Wel, Zadelaers Boogaert / Van Niel and Varekamp – and represents around 36ha of production.
That additional production brings Prominent's own planted area to just under 420ha.