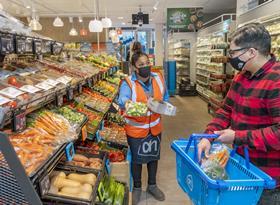 Sales of fresh fruit and vegetables in the Netherlands rose by 4 per cent in 2020, despite a sharp fall in the volume of produce consumed outside the home.
That's according to new figures from GfK and published by Dutch industry body GroentenFruit Huis, which also revealed that households bought 9 per cent more fruit and veg, contrasting with a 45 per cent decrease in restaurants and catering locations.
In a report published on its website, the group noted that the sudden shutdown of foodservice outlets during last year's lockdown had "brought an abrupt end" to the growth in consumption outside the home seen in recent years.
Online purchases, box schemes and meal kits, on the other hand, had received a huge boost.
"Corona and the lockdown, which everyone has been facing since 2020, are leading to a number of positive developments in the consumption of fruit and vegetables," it stated.
"Consumers spend more time in the kitchen and are actively doing more with recipes. Now that eating outside is not an option for a while and consumers are more concerned about their health and that of their family members than usual, the demand for fruit and vegetables is growing."
Products known for their high vitamin content, such as peppers and oranges, have done particularly well, it said. As a result, retailers in a position to sell large volumes of such products were doing well.
"More frequent and more extensive home cooking is reflected in increased sales of vegetables such as bell peppers, onions, courgettes, leeks and aubergines," it continued. "Oranges, avocados, tangerines and blueberries are leading the pack in fruit."
With many people seeking more inspiration when it came to healthy ingredients, GroentenFruit Huis said it had welcomed 40 per cent more traffic to its Veggipedia website, an online resource offering recipes, tips and information, during the first lockdown.
"Corona has proven to be an additional stimulus for the consumption of fruits and vegetables," it added. "The fact that people take more time to cook is also evident from the fact that the sale of unprocessed vegetables is growing faster than that of cut vegetables.
"In addition, fresh produce boxes and meal kits can count on more interest. The sale of fresh packs, with all ingredients for soup or a meal, grew by 30 per cent. Four in ten households now sometimes or regularly buy a box. The number of meal boxes sold increased by 21 per cent."
Moving onlline
Breaking down the 9 per cent rise in fresh produce sales, GroentenFruit Huis noted an 11 per cent rise for fresh vegetables and a 6 per cent increase for fresh fruit in 2020.
For a kilo of fresh fruit, consumers reportedly paid about 10 per cent more on average than they did in 2019, although the rate of increase for vegetables was only 2 per cent.
Much of the increase came from online shopping. "Corona gave online grocery shopping a huge boost in 2020. Online purchases of fresh fruit and vegetables increased by 60 per cent. The first run on online ordering was in March 2020. Interest dropped slightly in the summer, but online sales rose again after the announcement of stricter corona measures."
The number of households buying fruit and vegetables online apparently increased by 30 per cent last year, with online now representing a 6 per cent share of total consumer purchases.
"All in all, we can conclude that the special situation due to coronavirus has stimulated the consumption of fruit and vegetables, at least in consumers' homes," the group said. "This is certainly a positive development for health in the Netherlands. We hope that as soon as the closure of the catering industry is a thing of the past, this will also be continued in the consumption of fruit and vegetables outside the home."
Maintaining the positive trend would be a challenge, it concluded. "We are still far from achieving the advice of 250g of vegetables and 200g of fruit per day. Even with a growth rate of four per cent, this upward trend must continue for years before the daily recommended amount is reached. So there is still a lot to be gained."