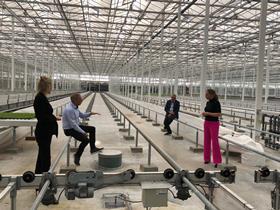 The founder of leading Dutch microgreens company Koppert Cress is backing a government-backed initiative to support short, local supply chains, as a widespread shutdown of restaurants and catering firms due to the coronavirus crisis leaves many foodservice suppliers struggling to reach customers and consumers.
Rob Baan said there had been a sudden and dramatic decline in demand for his products, leaving the company with no choice but to throw away significant volumes of unsold products.
'These products, which you often see on a nice plate in a restaurant, are now worthless because nobody can buy them, so they go in the bin,' he commented. 'The problem is that my customers, which include about 70,000 restaurants around the world, are all closed on government orders.'
To try and reach consumers in the surrounding Westland region, Koppert Cress has set up a drive-through area where people can make purchases.
'I can't bear to see people who would like these products simply pass by. Throwing away is the opposite of what needs to be done, because we now have to keep the Netherlands super healthy.
One customer, Stijn Markusse of produce box delivery company Boerschappen, said it was managing to keep its supply chain ticking over.
'With our wholesaler we are using box deliveries and an ordering app to bring products from farmers to consumers and companies. Today, we came here to get products from Koppert Cress,' said owner Stijn Markusse. 'These products are extremely healthy. We cannot throw these products away.'
Carola Schouten, the Netherlands' Minister of Agriculture, Nature and Food Quality, was at Koppert Cress late last week to show her ministry's support for the company and others like it.
'You can see that the demand has decreased enormously and that it now costs a lot to sell these products,' she observed. 'At the same time, however, we are now also seeing some beautiful initiatives emerge to sell locally produced food, which we call short supply chains.'
She called on consumers to support their local suppliers. 'This does not mean just here in the Westland. It's happening all over the Netherlands. The ministry is backing a short supply chains taskforce so that boxes can be bought all over the country. Wherever you live, you can support local entrepreneurs.'