PIB India cluster will visit Hyderabad and Delhi in new trade mission next week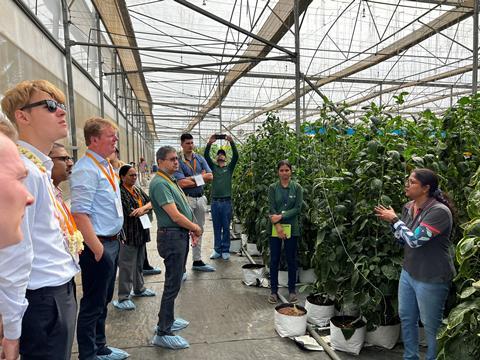 HortiRoad2India, the Dutch public-private partnership, will visit Hyderabad and Delhi next week as part of a trade mission to India.
The Partners In Business (PIB) initiative aims to establish the Dutch horticultural industry as a reliable partner for India's growing demand for healthy, fresh produce. The trade mission will focus on the opportunities of the growing market demand for safe and healthy fruits and vegetables within metropoles.
The visit to Hyderabad and Delhi from 23-30 April follows an earlier mission to the Indian states of Karnataka and Maharashtra in November 2022, which resulted in proposals for sustainable projects, recognising the need for Dutch knowledge and integrated solutions to support India's changing food production practices.
Desh Ramnath, cluster coordinator PIB HortiRoad2India said: "Dutch technology is able to empower the fresh produce value chain to grow clean, safe, and residue-free produce. We believe that by combining the strengths of the Indian market with Dutch greenhouse technology, we can revolutionise the way fresh produce is grown, delivered and consumed.
"We look forward to taking this next step in transforming the Indian horticultural ecosystem."
During the six-day visit the Dutch cluster of turnkey suppliers and specialised companies will meet with investors, project developers, and retailers. A public and private programme will be compiled with visits to greenhouse projects and practical training centres. This will be followed by knowledge sessions, in-depth matchmaking sessions and network receptions.
The Embassy of the Kingdom of the Netherlands is inviting Indian investors, project developers, entrepreneurs and directors in retail and hospitality to interact with the leading Dutch companies in horticulture.
The companies taking part in the mission are: Bayer-De Ruiter Seeds, Broekman Logistics, Hoogendoorn Growth Management, Lumiforte, Koppert, Meteor Systems, Priva, Ridder, Van der Hoeven Horticultural Projects, and Viscon Group. The mission will be organized by Dutch Greenhouse Delta, InnovationQuarter, the Netherlands Embassy in India, and Rotterdam Partners.
Those interested taking part in knowledge and matchmaking sessions on 25 April at Taj Krishna, Banjara Hills Main Rd, Hyderabad, and 27 April at The Lalit, Fire Brigade Lane, Barakhamba, New Delhi should contact coordinating partner Grand Thornton at ashish.kumar3@in.gt.com