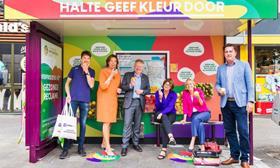 A marketing initiative in the Netherlands that saw fresh fruit and vegetables given away free of charge via a so-called 'edible bus stop' has been nominated for an innovation prize.
Geef Kleur Door (Share the Colour), a healthy eating promotion launched in 2021 by the National Fruit & Vegetables Action Plan, is one of 39 different projects on the shortlist for this year's Gezonde Innovatie Awards.
The bus stop, which was located in the town of Breda, attracted lots of local and national press attention. Packed with colourful fruit and vegetables, its goal was to underline the healthy, nutrient-rich potential of fresh produce and to contrast those attributes with foods offered by many of the Netherlands' fast food operators.
Other Gezonde Innovatie prize nominees included: Spoony, a vegetable taste-test game for children; Schijf for Life, a source of healthy diet tips; Baby Groente Tas, a vegetable delivery scheme tailored to the nutritional needs of babies; and healthy eating campaign Week van Snoop Goed.
The Geef Kleur Door campaign coincided with the International Year of Fruits and Vegetables, which was led by the UN Food and Agriculture Organization.
"If one thing has become clear in Breda, it is that with more fruit and vegetables around us, the world will not only become healthier, but also a lot happier," said a spokesperson for the campaign.
Members of the public reportedly asked if the project might be expanded to other locations across the country.
"This touches on the essence of the Geef Kleur Door campaign," they added. "We don't have the millions from the big unhealthy chains to fill every bus shelter with fruits and vegetables.
"So this is a call to companies, politicians and to you: colour your environment with fruits and vegetables. At home, at work, at school, at a party, anywhere, anytime. Because the more fruits and vegetables we see, the more we eat."