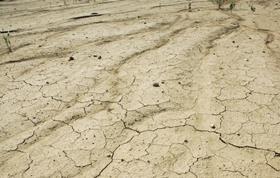 This year, scientists discovered ice on the surface of the Moon and, as if that wasn't enough, a lake of liquid water on Mars. That these discoveries instantaneously sparked fantastical talk of extra-terrestrial colonisation shouldn't come as a surprise given the trying conditions back on Earth. Scientific findings closer to home point undeniably to a circumstance of ever-greater water scarcity, with this year's widespread and long-lasting heat waves and droughts just the latest hint of the likely impact.
To gain an idea of the diverse knock-on effects of water scarcity, take a look at war-torn Syria. The drought there has been described as the worst in 900 years and was a factor in forcing more than 4.2m people to leave the country as refugees and displacing a further 7.6m internally, with political consequences felt as far as the UK.
According to the World Bank, competition for water resources is only expected to increase in the future, with particular pressure on the agricultural sector, which currently accounts for around 70 per cent of all water withdrawals globally. The need to create more efficient water networks, tackle waste and reduce use has been evident for some time, and fruit and vegetable growers are at the forefront of such efforts in Africa, the Middle East and Europe.
Africa
"We have no control over the weather," says Anne Kavai, sales manager at Kenyan avocado specialist Keitt Exporters. "Water scarcity is a worry for all growers in the future. Climatic changes are already having an impact. We depend on the rain. When it doesn't come, we suffer damages, then when it rains too much, we suffer floods and even more damage."
However, various technological and organisational fixes are being explored on the continent. According to the World Agroforestry Centre (ICRAF), Kenya is using water conservation technologies such as sunken-bed kitchen gardens and terracing to successfully increase yields and improve food security. A policy of 'green water' technology has also been put in action with the aim of curbing water shortages and channelling it to better uses. This technology has allowed arid and semi-arid areas to have regular water supplies for irrigation.
According to the Climate Technology Centre and Network (CTCN), Mali has successfully applied field contouring technology in rural areas including Koutiala, substantially reducing the volume of water runoff by 20-50 per cent depending on soil type. 'This has improved the yield of crops in an area that experienced severe drought and bettered the quality of livelihoods owing to a rise in income,' says Jukka Uosukainen, CTCN's director.
Meanwhile, farmers in Niger are making use of the gao, dubbed the "magic tree" by locals for its effect on the yields of crops grown next to it. The root system of the gao is almost as large as its branches, and it draws nitrogen from the air, fertilising the soil. Since its leaves fall during the rainy season, more sunlight is able to pass through to the crops at a crucial stage. Used along with mineral fertilisers, crop yields have been shown to double under gao trees, with the soils surrounding it holding water more effectively, ensuring a better crop in years of drought.
Conservation forms an essential part of Morocco's water strategy. The country's Department of Agriculture has developed a method of saving and recycling water in irrigated agriculture through improving irrigation water services, strengthening and adapting the financing of and incentives for water conservation, and ameliorating agricultural techniques downstream, including encouraging organisation, partnerships and crop contracts.
In Tunisia, the World Bank has announced a US$140m project to support the government's focus on irrigated agriculture in order to manage scarce water resources. One priority includes repairing irrigation systems to make them more efficient and reliable, creating a more productive agriculture sector that generates greater revenues and provides opportunities for a diverse range of people and enterprises.
The Irrigated Agriculture Intensification Project will rehabilitate existing irrigation schemes in agricultural areas in the Tunisian governorates of Béja, Bizerte, Jendouba, Nabeul, Sfax and Siliana. In addition to addressing water losses, which can be as high as 40 per cent, repairs will reportedly improve the consistency of delivery.
In South Africa, the WWF's most recent Water File indicated that around 30,000 people had lost their jobs in the Western Cape as a result of water shortages and drought, while exports dropped by 13-20 per cent due to reduced farming outputs and additional losses in income as export volumes declined.
According to the WWF, innovations are required to produce more with less, especially when it comes to freshwater availability, with precision farming becoming increasingly important. One climate scientist warned that the Western Cape would become drier and experience moderate to strong warming over the next 100 years. By 2050, rainfall in the region could apparently drop by 30 per cent compared with current levels.
Although the dams of South Africa's Western Cape recovered to around 60 per cent of capacity after a long overdue spell of rain and snow, water affairs spokesperson Sputnik Ratau maintains that the country will run out of water by 2030 without huge investments of around R30bn a year over the next 12 years.
"It's very good news that the reservoirs are again beginning to fill in the short term," says Tony Harding, technical and procurement director at Worldwide Fruit. "However, the data for the region indicates periods of water scarcity are likely to happen again and there is no room for complacency in the supply chain in regard to this threat. We are now actively progressing our next steps following our very successful workshop with leading South African partners in South Africa in June.
"We see the need to create structures which offer the opportunity to engage in strategic processes to consider, debate and develop strategic responses to various sustainability-related challenges. Establishing 'Sustainability Study Groups' to facilitate ongoing engagement by farmers in key sustainability subject-areas is something we are following up with our partners."
Middle East
In the Middle East, Syria is far from alone in its water woes. In Afghanistan, two-thirds of the country faces severe drought. In Herat Province, where agriculture is responsible for around 95 per cent of incomes, a lack of water has killed off livestock and crops, forcing more than 80,000 people to leave their homes for Herat City in search of water.
Scientists at the International Centre for Biosaline Agriculture (ICBA) have successfully started growing halophytic, or salt-loving, vegetables in UAE conditions for the first time. Production requires no fresh water, instead using reject brine from desalination units treated with fish effluents. The aim is to conserve fresh water by introducing such vegetables into the local diet, contributing towards the sustainable food security of the country.
Most of the UAE's water comes from the sea, but extracting the salt from seawater to make it potable is costly, energy intensive and currently reliant on fossil fuels. However, according to the UAE's climate change minister, Thani Ahmed Al-Zeyoudi, Dubai is moving in the right direction.
"We are testing renewable energy in desalination so we're not only improving the efficiency of the existing technologies, we're investing in the future," said Al-Zeyoudi. He added that such solutions would be needed across the globe, as climate change continued to put pressure on water resources around the world.
Israel is one country in the region that is famous for its desalination plants. However, Meir Ben-Artzy, chairman of exotics exporter Mor International, warns that action to address water scarcity is needed right now and that the construction of desalination plants takes time. "The world's governments need to understand that there will be large areas in the near future with huge water problems," he says. "That the weather is changing is clear. Just look at Cape Town. Governments have to act right now to ensure that water is recycled in the agricultural sector, otherwise we will undoubtedly see wars over this resource."
Europe
Growers in northern Europe have struggled to contend with the hottest and driest summer in recent memory. UK onion producers warned that the harvest could be down by as much as 25 per cent in both volume and size. The UK's National Farmers Union (NFU) has launched a new scheme to help match growers who urgently need water with neighbouring farmers who have a surplus. Meanwhile, many UK retailers have sought to reassure the NFU that they are taking measures to assist growers by adjusting their requirements on a number of products regarding size, appearance and taste.
NFU president Minette Batters emphasised the need for future policies to address not just environmental concerns, but also market volatility. "We would all like to farm without support but the reason why governments across the world do support agriculture is to deal with market failure and volatility – to ultimately keep food prices affordable and to avoid price spikes," she said.
The prolonged drought conditions in Europe pose the biggest threat to the EU vegetable sector in 40 years, according to the European Association of Fruit and Vegetable Processors (Profel). It revealed that France, Belgium, the Netherlands, Germany, the UK, Hungary and Poland had been the hardest hit.
In response, the European Commission revealed plans to assist affected member states by offering direct and rural development payments in advance and by foregoing greening requirements, a move criticised by environmental campaign group Greenpeace, which highlighted the ever-greater need to back sustainable initiatives in the face of climate change.
"As long as governments and the EU refuse to back sustainable farming methods that don't exacerbate climate change and are more resilient to its effects, this crisis will be the new normal," the organisation warned.
In Belgium, the recent apple and pear season got off to an early start due to the heat wave, but thanks to excellent water availability and the area's loamy soils, the impact was kept to a minimum. "Irrigated orchards will have less of an effect from the heat and from climate change," says Marc Evrard, commercial director at topfruit cooperative Belgian Fruit Valley. "In the future, it will be a matter of adjusting. If there's a lack of rain, extra investments will be needed, as well as extra professionalism. In the past, a grower might have planted an additional 15ha of fruit trees. Nowadays, this same grower might plant 10-11ha and save the remaining area for a reservoir."
Belgian research centre PC Fruit is researching ways to address issues of water scarcity, including the use of low-drift nozzles, drip irrigation, rain collection and sensor-covered drones which alert growers to particular problems with their trees.
In France, the "Vergers Ecoresponsables" quality charter for apple production continues to place a major emphasis on water management. Weather stations installed in the orchards allow apple growers to analyse the data from humidity-measuring probes in the ground. Producers can therefore adjust the water intake to what is strictly necessary, above all through drip irrigation, which is becoming more and more common in French orchards, enabling the foot of each apple tree to be precisely targeted.
Global
It would be a mistake to look at the increasingly global problem of water scarcity and conclude that it requires a one-size-fits-all solution. No single tech fix is likely to come to the rescue, and neither is a Trump-led US. Efforts will need to be manifold, concerted and tailored to specific regions.
With a global population predicted to surpass 10bn by 2050, it could be tempting to discount organic production, given the need to maximise yields. However, in years of drought, organic methods have been shown to produce far higher yields of crops including corn than their contemporary counterparts, since they help to retain moisture in the soil. Organics will undoubtedly have an important role to play in a drier future, along with drip irrigation, conservation, recycling, irrigation scheduling and drought-tolerant crops.
Wherever people are – living in cities or the countryside, in the North or the South, on Earth or Mars – they will need food, and for that we will always need water. The drought in Syria, and the subsequent civil war and refugee crisis, have served as a reminder of our global interconnectedness. The growing issue of water scarcity is a problem that the world must be prepared to face together, including raising the funds to make the necessary investments to avert catastrophe.