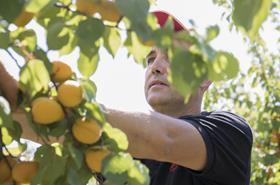 French multinational catering company Elior has entered into a partnership with AOP Pêches et Abricots de France to offer summer fruit bearing the Vergers Ecoresponsables (Eco-responsible Orchards) label in its restaurants across France.
The label confirms that a product has been grown according to an ecological approach that aims to reduce the use of phytosanitary products in order to produce the lowest possible environmental impact.
According to Elior, the partnership illustrates the company's commitment to increase its share of responsibly grown items by favouring seasonal and labeled products.
During the months of July, August and September, Elior restaurants will reportedly offer peaches, apricots and nectarines that carry the Vergers Ecoresponsables label.
'The AOP Pêches et Abricots de France represents more than 900 producers from the four major producing regions: the Rhône Valley, the Crau plain, the Costières, Roussillon and Corsica,' said the AOP's Raphaël Martinez. 'The partnership with Elior allows us to offer our products in canteens and thus make children and adults aware of our production methods that respect the earth and people."