Production volumes are up 40 per cent this season, with the variety poised to make its US debut
Northern Hemisphere production of Kissabel apples is forecast to rise by 40 per cent to 3,500 tonnes this season. As the campaign kicked off in mid-September, it was revealed that the innovative pink and red-fleshed apple brand will have its own stand for the first time at next month's Fruit Attraction. The fair also marks the debut of the brand's new juice range made from Red Inside apples.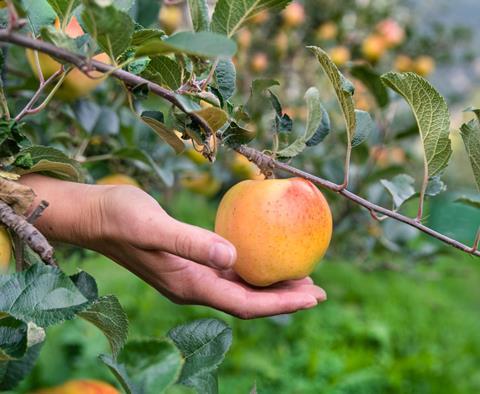 Harvesting of the pink-fleshed Kissabel Jaune and Orange varieties grown by the UK's WorldwideFruit, Mesfruits and Blue Whale in France, and Fenaco in Switzerland is underway. Picking of the red-skinned, red-fleshed Rouge variety will begin in October in the UK and run through to March.
Rouge apples will also be harvested in Germany by the Red Apple Germany Consortium, in Italy by Melinda, Rivoira and VIP and in the US by Stemilt Growers. This will be the brand's first full sales season in the US. Quantities are also forecast to rise in Europe, where crop quality is expected to be good.
Kissabel apple juices, made entirely or partly from Kissabel apples, are a means of using fruit not suitable for sale as table apples in a bid to reduce food waste. They are already on sale in Italy, Germany and France, where each authorised partner offers a different blend of coloured-flesh and traditional varieties tailored to consumer tastes in that market.
"Kissabel is growing thanks to the partners' planning and their commitment to producing the best possible apples," said Emmanuel de Lapparent, manager of the Ifored programme. "Kissabel is an extremely innovative range and has succeeded in surprising consumers with its appearance and flavour. The juice we are presenting in Madrid this year will enable us to grow the red-flesh apple segment and the Kissabel brand further, with new opportunities for consumption even when the apples themselves are not available."