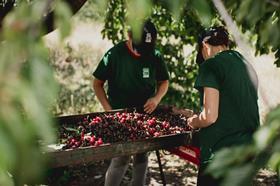 European cherry growers have reported another positive season for Picota cherries, in spite of the logistical and bureaucratic impact of Covid-19 and Brexit this summer.
This season saw more than 3m kg of Picota cherries sold in the UK from mid-June through to the beginning of August, matching last year's export figures and once again making the UK the primary market for the DO Picota cherries.
Miguel ángel Durán from Agrupación de Cooperativas Valle del Jerte said: "This year we are very happy with how sales developed in the UK. It was the first year following Brexit, which was initially one of our main concerns with regards to how this would impact sales.
"Generally, it has been a very good year for us, with just a few more costs due to bureaucratic, logistical, and administrative issues, but we are pleased to have achieved the objectives that we set at the beginning of the campaign."
He said the rains earlier in 2021 benefitted the Picota cherry crop, ensuring that the fruit quality was very high this year.
The farmers who grow this exclusive European variety also follow rigorous quality control procedures that grant the Picota its Denomination of Origin status, certifying the fruit's exceptional sweetness, traceability, and European quality.
"From the handpicking of each individual cherry to its unique health benefits, the sustainable and traditional production of the Jerte Picota cherry is an example of European fruit production at its finest.," said Red Communications, which runs Picota's UK marketing campaign.
This summer's promotional campaign included instore and online promotions with retailers, a virtual and in-person trade event at Grosvenor House in London, and collaborations with top UK food influencers for #PickaPicotaWeek, which took place on social media from 21-27 June.