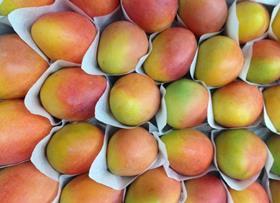 European consumers could soon be enjoying Colombian mangoes – including the popular sugar mango – following a decision by the European Commission to allow the fruit to enter the market without the need to apply quarantine treatments for fruit fly.
Prior to last week's decision, mangoes had to be subjected to hot water treatment, which is detrimental to fruit quality, or come from areas designated free from fruit fly – something that is very difficult to achieve in a tropical country.
Deyanira Barrero León, general manager of the Colombian Agricultural Institute (ICA), said the decision would facilitate and stimulate the export of mangoes, which in 2019 totalled 700 tonnes.
"We have obtained official confirmation from the European Commission to that mango exports can be made using the systems approach, which allows fruit to be shipped without additional quarantine treatments being applied," Barrero said.
According to the ICA, there are currently more than 100 farms authorised for mango exports, covering an area of almost 2,020ha.
The ICA and the Colombian government has put in place a programme to manage fruit fly in areas that have a low incidence of the pest in order to boost the country's export potential. It covers departments such as Antioquia, Boyacá, Cesar, Cordoba, Cundinamarca, Magdalena, Norte de Santander, Santander, Tolima and Valle del Cauca.
The mango variteties grown in Colombia including Hilacha, which accounts for 39 per cent of output, Tommy (20 per cent), Keitt (10 per cent), Yulima (10 per cent) and Sugar Mango (5 per cent).
Sugar mangoes, also known as baby or sucking mangoes, are a small, highly attractive variety prized for its aroma and sweet taste. Due to its popularity, it has been identified as one of the products with excellent potential on the international market.