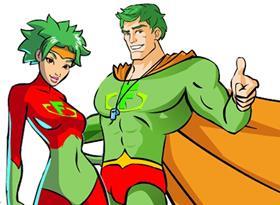 Fruitness, Enjoy it!, the EU-backed Italian marketing campaign aimed at raising interest in fresh fruit and vegetables among European schoolchildren, will be fronted by a second superhero this summer following the arrival of Miss Fruitness.
The promotional character will don her own skin-tight suit and accompany Mr Fruitness on a mission to boost consumption of fresh produce and awareness of the products' healthy attributes in Germany, Sweden, Denmark, Poland and the UK.
Focusing on kiwifruit, pears, peaches, nectarines, plums and apricots, the campaign will continue to incorporate physical activity into its core health message. 'Playing sport and eating fruit does you good, but it's also a pleasure above all and the best way to enjoy yourself in summer,' said a spokesperson for the project.
Of primary concern for the Fruitness initiative, which is run by Italian agency CSO on behalf of major industry names like Alegra, Apofruit and Naturitalia, is the continued battle against obesity.
Citing a recent report by European association Freshfel Europe, the agency said consumers in very few northern European countries currently met the 400g average daily recommended amount of fruit and vegetables.
Of the five countries targeted by the Fruitness superheroes, Denmark scored highest in 2012 with average consumption of 250g per day, ahead of Germany (184g), Sweden (182g), the UK (152g) and Poland (150g).
Targeting the 16-35 age group, Mr and Miss Fruitness are set to make a series of promotional appearances in supermarkets and other points of sale, via media and social networks, and at other live events.