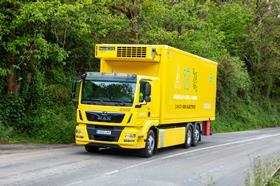 Spain's first fully electric refrigerated truck has rolled into action, with the promise to deliver greater environmental sustainability and a potential reduction in annual CO2 emissions of 60 tonnes.
The MAN eTGM vehicle, which uses Frigoblock's FK25i cooling technology, joins a fleet operated by Spanish supermarket chain Alimerka in Oviedo, Gijón and Avilés, in the north-west region of Asturias.
According to the manufacturer, the low-noise truck will also enable Alimerka to make zero-emission deliveries in urban areas outside of peak hours and at night.
That's because it can enter restricted, low-emission zones at times when traffic is lighter and parking is easier.
"Sustainability is a priority for Alimerka, and it is witnessed in our efforts to move towards a zero-emission distribution and logistics," said Pelayo Alonso Naves, fleet and maintenance manager at Alimerka.
"Operating the first electric refrigerated truck in Spain is a next step in our efforts towards green urban deliveries following the conversion to electric vans and LNG-powered trucks. We're thankful for the expertise and support from Frigoblock. Their technology helps us make it possible."

Francisco Cambra, sales manager for Spain and Portugal at Frigoblock and parent company Thermo King, commented: "At Frigoblock we are dedicated to sustainable innovation. We use our expertise in electric transport refrigeration to support our customers in their efforts towards greener and more efficient operations."
He added: "Seeing Frigoblock technology enabling Alimerka to operate the first electric refrigerated truck in Spain is an important achievement for us. This project marks a major step in transport electrification and towards zero-emission urban distribution in Spain."
Some of the energy needed to power the vehicle will come from a solar charging facility at Alimerka's logistics hub. With more than 7,500 photovoltaic panels, that facility is the largest solar panel installation in the Asturias region.