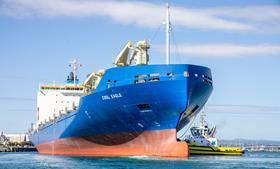 The first shipment of what is expected to be a record season of New Zealand-grown Zespri kiwifruit is on route to Europe.
The 7,000-pallet consignment of SunGold is aboard MV Cool Eagle, a new specialised reefer vessel built by Cool Carriers and the largest vessel to carry Zespri kiwifruit to date.
It is expected to arrive at the Port of Zeebrugge on 18 April. The first Europe-bound shipment of Zespri Green kiwifruit is due to in May.
Giorgio Comino, Zespri's executive officer Europe and North America, said MV Cool Eagle is the first of five planned charter reefer vessels to Northern Europe under Zespri's shipping programme this season.
"There's been good pollination and rainfall after pollination this season, which has helped with fruit sizing and it's looking like another great-tasting crop," he said.
"This season we're expecting to supply nearly 20 per cent more Zespri SunGoldkiwifruit to Europe, reflecting the continued growth in demand for the variety, and around the same level of green as last season."
With harvesting underway across all growing regions in New Zealand, Comino said the wider kiwifruit industry is again working hard to ensure it can pick and pack the crop safely.
"There has been a tremendous effort from everyone in the kiwifruit industry to respond to the ongoing challenges posed by Covid-19," he noted.
"While New Zealand remains in level one, the industry will again be embracing additional safety protocols and embracing enhanced hygiene practices throughout the supply chain, and concentrating on delivering more fresh, healthy fruit to its customers and consumers in Europe."
Comino confirmed that this season's marketing campaigns would again feature the Kiwi Brothers following a successful launch in six core European markets last season.
"This year, we are integrating these popular characters on our prepacks and through promotions with our retailers.
"We're also excitedto begin rolling out new cardboard packaging lines this season, after significant investment in our Zeebrugge packing station, and this season Zespriwill be able to offer 9m prepacks without plastic flow wrap, reflecting our commitment to sustainability."
With the new season approaching, Comino said the company was once more looking forward to working with long-term suppliers and partners.
"Our suppliers and partners continue to play a major part in our successes throughout the year, and we would like to recognise them for their work delivering our fruit to consumers, despite the challenges presented by Covid-19," he stated.