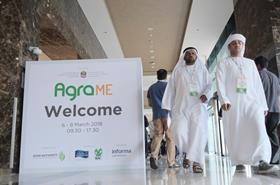 According to the organisers of the Agra Middle East exhibition in Dubai, which took place at the start of March, vertical farming is gaining in importance across the Gulf region, along with other Controlled Environment Agriculture (CEA) methods, and is generating interest and a rise in investment from across the globe.
The vertical farming market in the Middle East and Africa is expected to reach US$1.21bn by 2021 at a combined annual growth rate of 26.4 per cent from only US$0.38bn in 2016, according to Orbis Research.
One of the GCC countries leading this is the UAE, having upcoming projects facilitated by the government, in addition to private players, helping increase food security.
The UAE Ministry of Climate Change and Environment, for instance, has allocated space for 12 vertical farms to be built by Shalimar Biotech Industries. There is also the world's largest vertical farm for Emirates Airlines by Crop One Holdings.
As 90 per cent of food in the UAE is imported, and given territorial problems over water scarcity and available arable land, vertical farming is pivotal to ensuring food security within the region.
Food security equally forms part of the national strategy of Saudi Arabia, as well as wider economic development and diversification, as witnessed by its Saudi Vision 2030.
At a recent preparatory workshop for next year's G20 meeting, which Saudi Arabia will be hosting, Abdulrahman bin Abdulmohsen Al-Fadhli, Minister of Environment, Water and Agriculture, said that digital technologies and artificial intelligence would have a growing role in the Kingdom's efforts to maintain food security. Arab and foreign institutions were looking for modern and innovative technologies and solutions, he said, with the aim of discovering alternative food resources.
The agriculture sector faces major challenges, from price increases of agricultural products to climate change. A big part of the G20 discussions under the Kingdom's presidency in 2020 includes topics such as the development of natural resources to reduce degradation, sustainable food security and water scarcity, to name a few.
Agra Middle East, which took place at Dubai's World Trade Centre, brought some of the leading innovators and urban farming experts to the UAE to provide the industry with valuable information and knowledge.
Exhibition director Samantha Bleasby commented: "With the aim of increasing food security in the Middle East and attaining the UN Sustainable Development Goal (SDG) of zero hunger, we are excited to present the industry with new technologies from around the globe and free-to-attend learning and networking opportunities that will increase productivity in the region with sustainable use of water and land resources."