Freskon is back in Thessaloniki, Greece, on 23-25 April with an exhibition, a congress dedicated to citrus and a hosted buyers programme
Greece's main fresh fruit and vegetables trade fair, Freskon, returns to the Thessaloniki International Exhibition Centre on 23-25 April, with exhibitors from 15 countries – Greece, Uganda, the Netherlands, Bulgaria, Egypt, Cyprus, Moldova, Poland, Hungary, Italy, Spain, Romania, Bosnia and Herzegovina, Denmark and Germany.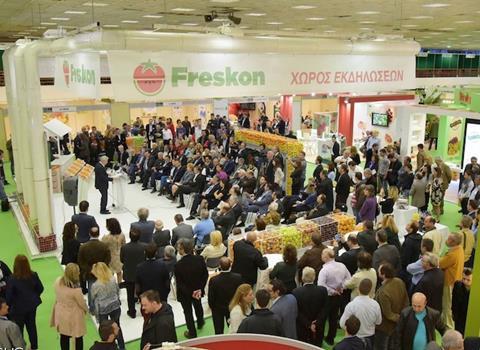 In addition to the exhibition, the event also includes Freskon's International Congress, which is this year dedicated to citrus, as well as a hosted buyers programme with guests from 40 countries, and FreshCon Market, a targeted producers-to-retailers networking unit.
"The most important developments in the sector of citrus fruits will be presented at the International Congress, which will be held on 23 April, with expert speakers from Greece and abroad, who will talk about important issues, such as varieties, diseases, cultivation practices, shelf-life, packaging and consumer behaviour," the organisers announced. "The goal of the congress, besides providing information, is to shape a framework of broader cooperation in the European citrus fruit sector."
FreshCon Market is being organised by TIF-Helexpo for the seventh year, in partnership with Froutonea magazine, providing a platform for communication between supermarkets and producers, with the aim of connecting fruit and vegetable production with retail.
According to TIF-Helexpo, the platform has helped to turn Freskon into the largest meeting of fresh produce growers and international retailers in southeastern Europe.
"There are already retail chains registered to participate from seven countries, specifically, Greece, Cyprus, Serbia, Albania, Poland, Romania and Lithuania," TIF-Helexpo stated, "and they will connect with agricultural sector professionals from all over Greece, in a networking framework that is ideal for business deals."