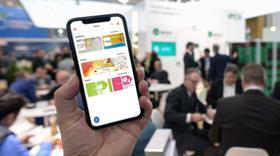 Leading produce industry trade show Fruit Logistica has launched a new app that makes it easier for trade visitors to get their bearings at the event, which takes place in Berlin on 5-7 April 2022.
Smartphone users can download the app for free from either of the Android or iOS app stores.
It provides exhibitor and product information, a detailed schedule, useful information from A to Z, interactive hall plans, and lists of favourites.
What's more, it facilitates easy networking by creating a QR code from a personal networking profile.
This can be scanned by other app users, making it possible to automatically link networking profiles in the app.
Everyone who has activated networking in their profile can contact each other and chat, for example.
The Fruit Logistica app also provides an overview of all companies participating in the event's Organic Route and Convenience Route.
Certified organic exhibitors and established manufacturers of convenience products are part of these respective routes, and make it possible for interested trade visitors to get a comprehensive overview of the market.
As we'll as the Fruit Logistica app, trade visitors who have already planned their trip to Berlin should not hesitate to get their ticket, which can only be purchased online via the ticket shop.
Permanent passes cost 85 euros, day passes are 45 euros.