Limited volumes of the new variety, developed by Fresh Forward, will be available from next season
Fresh Forward and FruitMasters have signed a licensing agreement for the Wurtwinning apple giving FruitMasters production and sales rights of the variety, developed by Fresh Forward's breeding programme.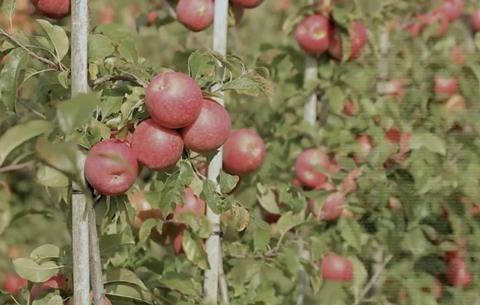 The apple, which scored highly for visual appeal, freshness, juiciness and aroma in independent consumer surveys, is also scab resistant and not sensitive to mildew.
Adriaan Vis, COO of FruitMasters, commented: "With a view to the European GreenDeal and Future Vision for crop protection 2030, it is essential to focus on robust apple varieties.
"In addition, our growers are also looking for mid-late varieties. The Wurtwinning meets these requirements due to its resistant properties, simultaneous picking window around Jonagold – mid to late September – and of course good results in taste tests. That is why we already see a lot of demand from our members."
A number of FruitMasters growers have already planted the variety. The first small-scale volumes are expected next season and will be marketed as a closed retail concept. In the coming years, cultivation will be optimised and plantings will be expanded, the company said.
Originating in the breeding programme of Wageningen University & Research, Fresh Forward is one of Northern Europe's leading breeders, specialising in apples and strawberries. Its varieties include Elsanta and Elstar, along with new strawberry variety Sonata and the SQ159 apple, sold under the brand name Magic Star.