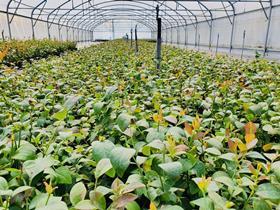 Gamorel, Uruguay's biggest blueberry producer, has taken delivery of a selection of new varieties developed by Australia's Mountain Blue Orchards (MBO), following a deal reached last year to grow and market the varieties exclusively in Uruguay.
"We are really excited to have reached this new goal, and although we know we are just at the beginning of our varietal reconversion programme this is cause for celebration,' said Gamorel's general manager, Natalia Baldassari.
She noted that the new genetics would allow the company to supply the varieties of Uruguayan-grown blueberries that the market demands today.
"The world has changed and competitiveness extends not just to the costs a company faces, but also in the final product that reaches the consumer," Baldassari said.
Commercial manager Matias Notti said the varieties "meet all the requirements and the quality standards that consumers are seeking, since we will have early fruit, of good calibre, firmness, flavour, bloom and post-harvest life, which could possibly us the option of having everything pre-sold before harvesting".
He added that it would also enable the company to target the Chinese market, which opened for Uruguayan blueberries in 2018.
Gamorel said the planting of the new varieties is the latest milestone in its journey to become a global platform for Southern Hemisphere-grown blueberries, offering a unique business model based on innovation, genetic development, sustainability and the digitisation of processes".