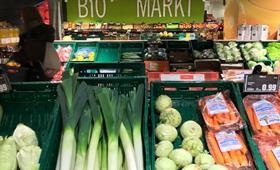 A lack of seasonal workers due to the coronavirus crisis could lead to a severe shortage of fruit and vegetables in Germany over the next few months, one of Europe's largest suppliers has warned.
Frutania, a leading provider of products including berries, asparagus, apples, pears, stonefruit, tomatoes and vegetables to the major supermarkets, said it saw serious problems ahead in terms of maintaining required volumes in the market after the federal government placed restrictions on foreign seasonal labour entering the country.
With several products due to be harvested in the coming weeks, the group's managing director Markus Schneider said Germany faced a major bottleneck not only in 2020 but in years to come.
More than 150 growers who supply the firm are understood currently to be facing a shortfall of around 10,000 seasonal labourers.
'The companies we work with cannot bring in their crops at the moment and are no longer ordering plants for next year, because the uncertainty of the current situation means they cannot finance advance payments for next year,' he explained. 'Imports from neighbouring countries can also not be completely guaranteed.'
Germany's high dependency on regional supply from April to September could mean consumers see empty shelves in supermarket fruit and vegetable departments, Schneider warned.
"The situation threatens the livelihoods of farmers,' he commented. 'The season is ready, the plants have been planted for this year and are about to flower or harvest. However, the cost of production has increased significantly because operationally things are more complex, with additional hygiene requirements and the shortage of workers.'
He added: 'In addition, there is now a total loss of revenue if the harvest cannot be brought in. The food retail trade faces the problem of a shortage of goods, so prices for fruit and vegetables can be expected to rise sharply."