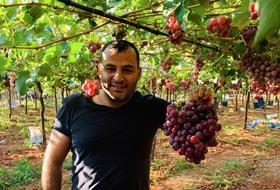 When it comes to one of the key considerations for grape buyers – the question of quality versus price – Lebanese grapes are "unbeatable", according to Ghassan Awdi, vice president of Lebanese exporter Awdi Enterprise.
"Our clients compare our grapes of the same varieties to those grown in the US," he claims. "I am proud to say that our Lebanese grapes compete with Californian, Spanish and Italian."
Lebanon may be less well known than some of the origins above, but an appreciation of the quality of Lebanese grapes is certainly growing around the world, and a promotional tie-in with Middle East Airlines is set to serve as a handy introduction to future flyers.
"For four months, in order tosupport theLebanese cause, Middle East Airlines has agreed to promote our farm and our produce on their flights," says Awdi. "Each passenger on our national airline traveling to the Middle East, Europe and Africa will therefore get to know more about high-quality Lebanese grapes. A few years back, they also did a promotion for Lebanese apples, which we also aim to develop globally in the near future."
Future growth
Awdi Enterprise currently produces around 2,000tonnes of grapes,but Awdi expects that figure to double in the next two to four years. "We produce Crimson, Red Globe, Superior Seedless, Autumn King, BlackPearland a lot of new varieties that are yet to be introduced by others in Lebanon," he says. "Themost popular are red seedless varieties. However, each country we export to – over 35 countries – has its own preference when it comes to grape varieties. Everything sells."
According to Awdi, Lebanese grapes are now gaining in popularity abroad. "The feedback we have received from our clients is that our grapes are of a higher quality compared with what they've been receiving from other countries," he says. "Our main markets are Asia and Africa. Thanks to CMA CGM, we have great express shipping routes between Lebanon and Malaysia, Singapore, HongKongand other countries inSoutheast Asia. And there are a lot of Lebanesebusinessmenin Africa who are familiar with the quality of Lebanese grapes."
Good timing
The aim now, according to owner Mehdi Awdi, is to start exporting to the likes of Europe, South America and North America, and he is confident of the company's future expansion, not least due to some of the advantages enjoyed by Lebanese growers.
"When it comes to qualityversus price," he says, "our grapes are unbeatable.I believe Lebanese grapes have a major competitive advantage over Egypt and South Africa.First,our grape season starts at the beginning of August and ends around mid-November. This places us at a strategic time in the grape calendar, since there is no production coming from Egypt or South Africa for export worldwide during this period."
AwdiEnterprise is a third-generation, family-run business, and the owner sees this as another advantage. "Our family has other businesses in Romania, Brazil,the USand Lebanon, so we have a lot of international business experience," he states. "This has enabled us to be pioneers in the export of fresh fruits from Lebanon. We have introduced Lebanese products to markets that nobody ever imagined they would reach."
Challenges multiply
Of course, in the age of Covid-19, such evident potential is not without its challenges. Although restrictions remain limited in Lebanon itself, lockdowns and travel curtailments in many countries have meant that client farm and packhouse visits have been disrupted. But it is economic, logistical and environmental challenges that are of far greater concern.
Since the explosion in August 2020, the port of Beirut is still working at just 20 per cent of its previous capacity. "This means that the frequency of cargo ships docking in Beirut is down," resumes Ghassan Awdi. "Sometimes wehave towait one or two weeks before we can load containers for our customers in Africa and Asia."
Another challenge is the instability of the Lebanese pound. "Due to the economic crisis here, stabilising our costs can be a challenge, as our margins are changing daily thanks to major currency fluctuations," he reveals. "The exchange rate can fluctuate by 10-20 per cent in a single day."
Political instability also remains a permanent challenge. Prior to the start of the Syrian conflict in 2010, large volumes ofLebaneseproduce would be transported by truck, to Jordan, Syria, SaudiArabiaand other neighbouring countries. Now Lebanese companies are limited to exporting by either sea or air.
In addition, due to political issues between Lebanon and Saudi Arabia, trans-shipments through Jeddah remain prohibited. "Because of this, we have to find creative shipping solutions to get our containers to Kenya and other East African markets," explains Awdi.
Climate threat
All farmers across the globe face the alarming prospect of a harsher climate, and those in Lebanon are no exception.In this region, the chief concern remains water availability, with drought a major issue.
"Our grape farms require large amounts of water for irrigation," says Awdi, "which requires some creative solutions. Our farm is now operating 100 per cent through a solar pumping system thatextractswater from another village 20km away. We are always looking for new ways to make our farm as efficient as possible with regard to water use."
The climate is also becoming more unpredictable, he says. "During the harvesting period from August until November there is usually no rain in theregion,which helps us to prolong the shelf-life of our grapes. However, we are starting to get smallrainstorms that are not usual for this time of year."