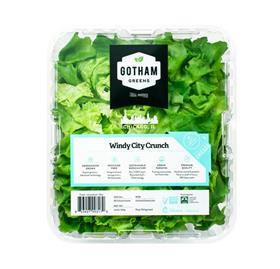 Gotham Greens, a pioneer in urban, hyper-local production, has opened what it claims is the world's largest commercial urban hydroponic greenhouse. The 75,000ft2 facility, which is located on top of a soap factory in the Pullman area of Chicago, is the US company's fourth such facility and its first outside of New York.
According to Gotham Greens, it will produce nearly 10m individual vegetable and herb crops per year, all of them premium quality and free of pesticides. The greenhouse is also powered by 100 per cent renewable energy and employs over 50 workers, many of them from the local community.
"With more than US$1bn in venture capital invested in the city in 2014, Chicago continues to emerge as the country's newest hot-spot for innovation and growing companies," commented Chicago's mayor Rahm Emanuel. "Gotham Greens' expansion means even more jobs and investment in the Pullman neighbourhood; and through cutting-edge agricultural innovation they will provide fresh, healthy and locally-grown foods to residents across Chicago."
Retail distribution
Gotham Greens' local produce will be available in select national and local retailers across the Chicagoland area including Whole Foods Market, Peapod, Treasure Island, Sunset Foods, Plum Market and Target.
"We're proud to expand our footprint and bring Gotham Greens' award-winning local produce into a new market, particularly Chicago, which is not only where I spent my early childhood, but also currently, perhaps, the most exciting city for culinary innovation, green development and urban farming," said Gotham Greens co-founder and chief executive Viraj Puri. "We're especially proud to bring so many new jobs to the Pullman area, while also helping to make the local food system healthier and more ecologically sustainable."
Over the past six years, Gotham Greens' brand of urban agriculture has made a major impact in the US. Its growers are tasked with producing the highest-quality vegetables all year round and have apparently been equipped with sophisticated computer control systems that continually adjust the greenhouse environment to ensure optimal growing conditions. For some consumers in Chicago, like some of those in New York, this will mean they now have access to premium-quality, hyper-local produce that lands on retail shelves and restaurant plates on the same day it was harvested, each day of the year.
"Above all else we are focused on growing the freshest, best tasting produce available," said Gotham Greens' chief agriculture officer, Jennifer Nelkin Frymark. "Our commitment to quality and growing excellence is best illustrated by Gotham Greens' new and long-standing relationships with the nation's best retailers and Michelin-rated restaurants committed to providing their customers with the freshest and finest ingredients possible."
Better results
Gotham Greens' proprietary growing methods are said to yield up to 30 times more crop per acre than field production, something which should enable the Pullman greenhouse to produce yields equivalent to over 50 acres of conventional field production.
Because Gotham Greens recycles 100 per cent of its irrigation water, it also promises to use significantly less water – 10 times less, according to the group – than conventional agriculture, while also eliminating all agricultural runoff, a major cause of water pollution. By growingly locally, of course, Gotham Greens can also eliminate much of the food waste and environmental footprint linked to shipping produce over long distances.
Based in the New York borough of Brooklyn, the group now has over 115 permanent staff members and its rapid growth is set to continue over the coming years, with projects under development in cities across the US.
"We've raised over US$30m since launching in 2009," says Gotham Greens co-founder and chief financial officer, Eric Haley.
"We now have four operational greenhouse facilities across two cities totaling 170,000ft2. This makes us the largest and most commercially successful urban agriculture company in the world."