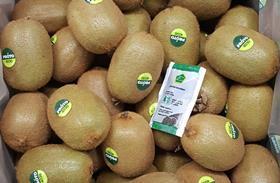 According to George Kallitsis, export director at Greek kiwifruit exporter Proto, the company's main markets in Europe have continued to perform relatively well in spite of the global Covid-19 pandemic.
This year's Greek crop may be lighter in volume than a year ago, but growers have benefited from the more significant decline in Italian production over the last two campaigns.
Despite the smaller volume, Greek exports have remained quite stable, according to Kallitsis, while Proto has seen a slight drop.By the end of January, Proto had exported around 6,000 tonnes of kiwifruit, compared with 7,000 tonnes a year earlier.
For Proto, the biggest change this year has been the Asian market, which was severely disrupted around this time last year, as fears of the Covid-19 pandemic grew.
"Volumes began more slowly this campaign," said Kallitsis. "Last year there were some problems, so maybe people were just being extra-cautious to start with. Now life seems to be back to normal in China and volumes to the Chinese market are really starting to move."