Belgium-based group says it reinforced its market position in 2022/23 and is "looking ahead with confidence"
Greenyard has today (14 June) published its annual report for 2022/23, highlighting growth in like-for-like sales and adjusted EBITDA.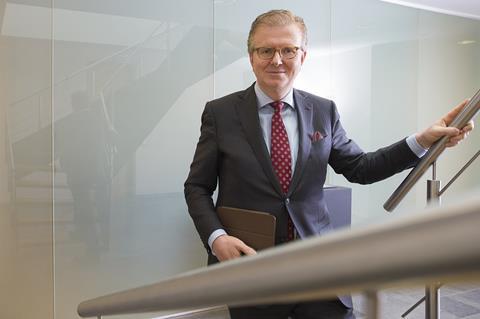 Hein Deprez said that pure-plant food was "part of the solution" to secure the future of the planet
The group said that it outperformed the market in fruit and vegetables through the year, with the average consumption of fresh fruit and vegetables per capita declining by 10 per cent in 2022.
"The fiscal year 2022/23 was marked once again by severe macro-economic circumstances: shortages, unseen inflation rates, and soaring energy prices dominated last year's global economy," Greenyard outlined.
"Consumers' purchasing power was impacted, forcing them to make choices in their food expenditures. The average consumption of fresh fruit and vegetables per capita declined by 10 per cent in the year 2022.
"In these hard times, with volatile markets and product shortages, Greenyard continued to build its track record, for people seeking healthy food options, for customers and consumers in need of affordable high-quality products and added-value solutions all year round and for its stakeholders alike," it continued.
Sales and earnings growth
Like-for-like sales increased by 7.9 per cent year-on-year to €4.638bn despite the "current adverse economic and macro-political context", while contrary to the general consumption trend, volumes only decreased by 0.8 per cent and prices increased 8.5 per cent.
Adjusted EBITDA climbed 0.5 per cent to €167.3m, which Greenyard said was driven by its "robust business model of building an integrated long-term relation with the customer".
Net result ended lower at €9.3m versus €16.9m last year, mainly due to further reorganisations to strengthen the fresh operating model towards the future.
"With 10bn people to feed by 2050, we will have to find better and more sustainable ways of producing food – with less impact and more nutritional value – if we don't want to jeopardise the future of our planet for our children, grandchildren, and the generations after them," said co-CEO Hein Deprez.
"Pure-plant food is part of the solution, but should be accessible, affordable, pleasurable and convenient," he noted. "Greenyard has the scale, the people and the full-year offering of high quality products in all segments to help drive this irreversible transition."
Co-CEO Marc Zwaaneveld described the results as "very positive" in such a difficult economic year.
"We look ahead with confidence, even in uncertain times," he commented. "As we move forward, we remain resolute to achieving sustainable growth and creating long-term value for everyone in the food value chain, and for all our stakeholders. With a strong relative market position, we are ready for a healthy future for all."
Future projections
Based on its results, estimates and projections, sales are expected to grow to around €4.9bn for the financial year 2023/24 and adjusted EBITDA is expected to increase to €175-180m.
Greenyard has also set its ambitions for March 2026 at €5.4bn of sales and between €200-210m of adjusted EBITDA.

"With a strengthened relative market position, Greenyard is set to reap the benefits both of increasing consumption and its unique approach to the market, particularly with the tailwinds of a normalised economic and geo-political climate," the group added.
Click here for a full, detailed breakdown of Greenyard's yearly results for 2022/23