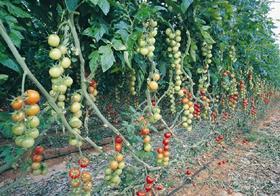 Last year's establishment of the Abraham Accords between Israel and the UAE and Bahrain (later joined by Morocco and Sudan), signified a turning point and opportunity for international trade and foreign direct investment in the Middle East.
Despite its small size of around 8.6m people, Israel is known globally as a Startup Nation, a home to innovation and technology. It has the most start-ups per capita and is the second biggest spender globally on research and development.
Non-profit Startup Nation Central states that a combination of government support, lessons learned from limited resources and a strong tech sector has helped maintain the country's position as a leader in agriculture. In a Forbes list compiled by SVG Ventures-Thrive, 20 per cent of the world's top 50 agri-tech firms were Israeli, including DouxMatok, InnovoPro and Hinoman.
The UAE and Bahrain, like much of the Gulf region, are undergoing large economic diversification programmes, and agriculture and wider sustainability play a major role in that.
The UAE once imported 90 per cent of its food. However, a drive to increase food sustainability has seen the development of greenhouses in the UAE to produce more fruits and vegetables locally, including tomatoes. Last April, the Abu Dhabi government announced it was investing US$100m in vertical farming.
Given that Israel is a global leader in agri-tech, the UAE stands to benefit from the transfer of knowledge, ideas and best practices, as it seeks to build up its agriculture industry virtually from scratch.
Around 60 per cent of Israel's agricultural exports, including tomatoes and watermelons, come from the Arava region in the southeast of the country. There, with its limited water and poor-quality soil, conditions are similar to the UAE.
The UAE's commitment to food security is shown by the role of the Food Security Minister, a position held by Mariam Al Mehairi.
Signs of collaboration with Israel were evident after comments made by the director general of the Israeli Ministry of Agriculture and Rural Development, Dr Nahum Itzkovich.
'The Ministry of Agriculture and Rural Development was one of the first ministries to initiate official contacts with the Ministry of Food Security so as to examine additional ways to deepen economic ties in general, and expand new exports from Israel to the UAE in particular," he said.
It is clear that the seeds are being planted for Israel and parts of the Middle East to both share knowledge and boost trade and investment through agriculture and agri-tech.