ITC's Frédérine Derlot named Woman of Impact while Equifruit picks up EmpowerHER Company Award
Global Women Fresh has announced that winners of the 2nd annual Woman of Impact and EmpowerHER Company Awards, created to celebrate women and companies who lead by example in advancing the role of women across the international fruit and vegetable industry.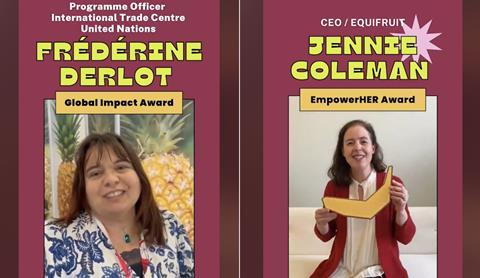 Frédérine Derlot, a market specialist working at the International Trade Centre (ITC) in Geneva won the Women of Impact Award, while Canadian Fairtrade banana company Equifruit picked up the EmpowerHER Company Award.
The ITC is a United Nations agency specialising in the implementation of technical assistance projects for developing countries. This involves linking women entrepreneurs to agricultural markets around the world.
Derlot commented: "I am delighted to receive this award. We know that, unfortunately, women's place in agriculture is still an issue in many countries. Even though women make up 60 or even 70 per cent of the agricultural workforce in some countries the place they have in the value chain is not as strong.
"More and more we see that women are moving up the agricultural value chain into not just processing but also entrepreneurship. It's all about community. There's a saying: if you teach a man to farm he will feed his family. If you teach a woman to farm, the community will be fed."
Equifruit's CEO Jennie Coleman said it was a great honour to accept this award on behalf of the whole Equifruit team.
"Equifruit is a 100 per cent Fairtrade banana company and as such we believe strongly in one of its key tenets, gender equity," she said.
"Being women-owned and women-led we may be something of an anomaly in the banana industry.
"But we stand on the shoulders of fierce bananeras who broke ground before us to fight for gender equity and the end of discrimination in banana supply chains. And so we raise a glass to them and share this award with them."
The GWF awards were created two years ago to highlight the outstanding work that women and companies are doing in our industry to create a more balanced world.
Daniel Mathieson, CEO of Zespri International, which sponsors GWF, said: "We all wish to live in a world that's fair for everyone. A world where identity does not determine opportunity. If we want to make that a reality, then we need to think about what can hinder or help gender equity in our lives, in our workplaces and in society at large.
"A first step is to recognise that inequity exists. We still see marked differences in pay outcomes, access to opportunities and career outcomes based on gender. The data across many companies – and Zespri is no different from others – shows we have a long way to go.
"The good news is that we know how to make a difference, by identifying what's getting in the way, breaking down our biases, and improving our people systems. We all have a role to play, and our collective impact can create lasting change."