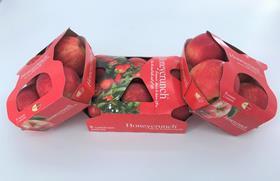 French apple producer Innatis has launched a new cardboard punnet for Honeycrunch apples that is fully recyclable, according to sales director Arnaud de Puineuf.
The new packaging has been in development for around six months, he said, and was designed to respond to the desire of the group's retail customers to remove plastic packaging from their shelves.
"We're happy to launch three new packs," he said, "a six-fruit punnet for 70/80mm, a four-fruit punnet for 70/80mm and a four-fruit punnet for 75/85mm. These packs are Honeycrunch's eco-responsible solution for retailers asking for packaged products."
According to de Puineuf, Innatis started packing with cardboard punnets a week ago and is gradually rolling them out to customers across Europe.
"These new designs are an extension of the work we have done in our orchards," he said, "following the standards laid out in the 'Vergers Ecoresponsables' model."