Volume of strawberry, blueberry and raspberry shipments all down on the previous year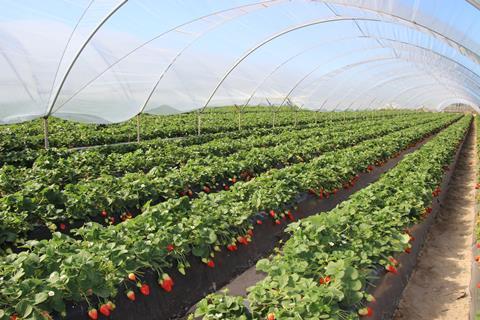 Huelva exported 243,310 tonnes of strawberries in 2022/23, a fall of 10 per cent on the previous season according berry association Freshuelva.
It said the campaign was plagued by bad weather, which caused extensive damage at key points in the season. This included a period of excessive heat during plantings and a cold snap at the beginning of the year which curtailed production and another heatwave in April that reduced the quality of the fruit.
Up to the end of May, prices registered an increase of 0.22 per cent compared to the same period of the previous year, putting the total value of exports to that point at almost €571m.
However, the increased production costs and shorter crop resulted in a drop in profitability for growers overall.
Raspberry exports fell 4.5 per cent to 47,750 tonnes, in a campaign marked by low prices and strong competition from third countries like Morocco, Freshuelva said. The value of raspberry exports totalled €222.5m, which represents a decrease of 3.65 per cent compared to the previous campaign.
Blueberry exports also finished 10 per cent lower in volume at 53,190 tonnes, as insufficient cold hours during a hot spell in November, December and January delayed the arrival of the harvest and cut production volumes.
"Then the subsequent cold temperatures at the end of February and beginning of March led to a reduction in sizes. And although production recovered in April and May, we faced strong competition from other sources that led to a collapse in prices, followed by a period of lower supply in June during which prices improved," Freshuelva said. "All in all this has been the most irregular blueberry campaigns of recent years."
The value of blueberry exports increased slightly (1.27 per cent), reaching almost €219m.
Finally, blackberry exports remained similar to last season at 2,000 tonnes. However, the value of shipments grew 61.2 per cent to €14.3m.
Germany and the UK continue to be the main destination for Huelvan berries, with France and the Netherlands also accounting for a significant proportion of shipments.