This year's Summit brings the international blueberry sector together in Lublin, Poland on 3-6 July
The International Blueberry Organization (IBO) has announced its programme for the upcoming IBO Summit, which will be held in Lublin, Poland on 3-6 July.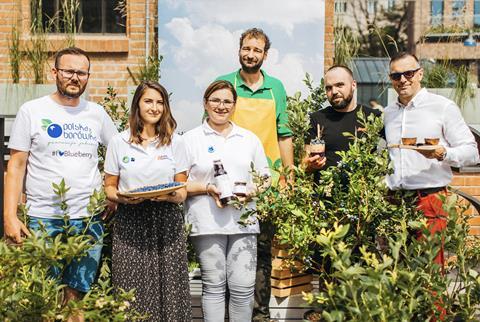 The event includes in-person visits to some of the world's largest blueberry farms, while there will also be a focus on examining how production can be further improved and consumption levels increased globally.
Cort Brazelton, Co-CEO of Fall Creek, and Colin Fain, CEO of Agronometrics, will open the event by presenting the IBO Global State of the Blueberry Industry Report, highlighting current trends and the latest production and consumption data.
The presentation will be followed by a round table discussion on the impact of disruptive production growth in some regions of the world on the future of the industry, a panel discussion on what is happening in Poland, Ukraine and Turkey, and input from Soren Bjorn of Driscoll's of the Americas and Juan Ignacio Allende of Hortifrut.
The second day includes a 'Know Your Consumer' session, as well as a focuses on 'Making Blueberries the World's Favourite Superfruit' and 'The Sustainability Challenge'.
"The IBO Summit 2023 promises to be an exciting event for the global blueberry community," said Peter McPherson, president of the IBO. "It will be the first time in four years that the industry has been able to come together and share first-hand its collective knowledge to drive this great industry forward and on to further success.
"I am also excited about the discussion between Soren Bjorn and Juan Ignacio Allende who are two of the industry's global leaders, in particular, to hear their views on the future of the industry."
"We are greatly looking forward to reconnecting with members of the blueberry industry this summer at the IBO Summit in Poland, and to jointly analyse and discuss different elements related to sustainability within our industry," noted Mario Steta, operation's director EMEA at Driscoll's of Europe.
"In the past years we all have become more aware that as our global footprint expands, the need to properly manage and optimise how we use key inputs and resources has gained even more relevance," Steta continued.
"With drought conditions and water volumes and access becoming more restricted in many areas of Europe, western USA and Latin America, and with farm worker availability decreasing to significant levels in key production regions, the need to further understand and define actions to deal with these and other elements limiting or impacting production, becomes more critical.
"Furthermore, the geopolitical events of the last months have impacted prices and availability of key inputs like fertilisers, adding to this need to optimise the use of this resources and achieve greater efficiencies on the way we grow and deliver blueberries to our consumers," he added.