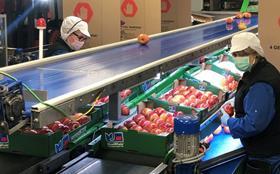 This season, French apple exporters face an unusual degree of uncertainty. As the campaign got underway with Gala around ten days early at the end of July, Europe experienced its now almost seasonal heat wave, while looking ahead, the Covid-19 crisis and Brexit continue to present unknown threats.
"Thankfully, the heat only lasted a few days," said Marc Peyres, commercial director at Blue Whale. "We are not seeing any issues so far. We had good conditions in July and experienced good colouration from the beginning. There have been quality issues in many countries due to hail and other problems, so we expect the European crop to be well below the usual, though not as bad as the frost-affected 2017 campaign."
One advantage for exporters this season is the lack of apples in storage due to the bump in consumption from Covid-19.
'With the topfruit market relatively empty, demand is high, so the prospects look good,' said Peyres. "When it comes to Covid-19, we don't know if we will have similar outbreaks in September and October to those we saw earlier this year. This will cause consumption to rise, so it's hard to know the balance. Logistics weren't an issue in Europe due to our modern facilities for distribution. The effect of the resulting economic crisis might be more significant, including fluctuations in exchange rates."
The economic situation is unpredictable, said Peyres, including on overseas markets. 'In Asia, every market is different,' he said, 'but in general, apples are quite an expensive product in the region, so we could see imports to this market fall.'
India reportedly started early for Blue Whale this year due to a lack of product, with the market performing well. 'We had a good season in India with Southern Hemisphere fruit,' said Peyres. 'India is a huge market, so even a small increase in demand creates a big result. We will see how long this lasts, as there is always a lot of variability.'
Some volumes are being redirected from Dubai to India, said Peyres, as the Middle East region suffers from a fall in tourism, low oil prices and, in various cases, continuing instability.
And with the UK appearing likely to leave the EU with no deal at the end of the year, Peyres admitted there were some concerns about Brexit.
"The UK is a key market for us, so we are anxious about Brexit," he said. "In terms of sending fruit to the UK, documentation is not an issue. We export all over the world so one more non-EU destination is no problem. But we worry about the economic impact of Brexit in the UK, including on the currency. This will affect business, and the value of our exports. We hope that politics starts to return to reality so that we can come together to overcome these crises."
According to Blue Whale's Dina Abella, the Alps-based GP05 group of growers joined Blue Whale this summer, helping to strengthen the company's pear offering, as well as its high-quality local production.
"This year," she said, "we will focus our efforts on the promotion of organic varieties, with a forecast of over 10,000 tonnes, as well as on the Candine variety. We have had very good feedback from consumers regarding the taste of the Candine apple."