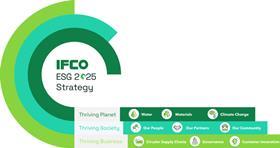 Reusable plastic container (RPC) specialist Ifco has presented its Environment Social Governance (ESG) 2025 strategy, to help it 'thrive in the circular economy'.
The main objectives of the strategy include combating climate change, embracing diversity and inclusion as well as reducing food waste and single-use packaging.
Along with the ESG strategy, Ifco has also published its first standalone ESG report, focusing on key material topics for the business in the areas of Thriving Business, Thriving Planet and Thriving Society.
'Ifco's business model fosters the principles of circular economy since the company was founded almost 30 years ago,' the group noted, highlighting the fact its European Lift-Lock range of RPCs was recently awarded the Cradle to Cradle Certified Silver certification.
The company stated that it wanted to enable producers, retailers, and consumers to do their part to protect the environment and create a resource-efficient supply chain.
In 2021 alone, Ifco customers reduced the carbon footprint in their supply chain by up to 60 per cent compared to using single-use packaging, the company continued.
'We have already achieved considerable success with our measures to be more environmentally friendly,' explained Michael Pooley, CEO at Ifco. 'At the same time, we acknowledge that it is time for further action.
'Together with our partners, we are working every day to make our business model even more sustainable. Our new ESG strategy helps us to fulfil our purpose to make fresh grocery supply chains sustainable and have a meaningful positive impact on our planet and society."