Grouping of table grapes by flavours aims to simplify varietal range for retailers and consumers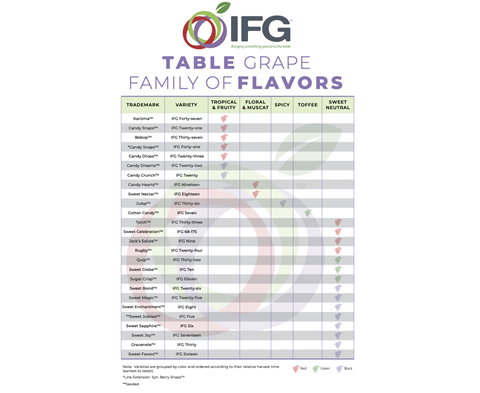 International Fruit Genetics (IFG) has launched its IFG Family of Flavors to better communicate to retailers and customers its diverse range of grape varieties and their corresponding flavour categories – including sweet neutral, tropical, and muscat.
Located on the IFG website, it allows retailers to group and choose the varieties most appealing to their target customers.
The categories include Tropical and Fruity; Floral and Muscat; Spicy; Toffee and Sweet Neutral.
"Let's face it, 48 varieties of table grapes, while an achievement, can also be a bit overwhelming. We wanted an easier and more digestible way for retailers and consumers to understand the diversity of flavours that IFG table grapes encompass," said Jennifer Maguire, the company's international commercial manager table grapes.
"The IFG Family of Flavors offers a roadmap that can help retailers group and choose which varietals will appeal to their target customers and help them market grapes in new and creative ways.
"Likewise, we want our consumers to know that IFG table grapes come in many surprising and delightful flavours that make healthy and tasty additions to any snack or meal."
IFG has been at the forefront of table-grape breeding and innovation for more than 22 years. Through its natural breeding processes, the company has debuted popular varieties including Cotton Candy – aptly named by schoolchildren in 2003 for its toffee-like flavour. Today, the company offers table grapes in various flavours, colours and aromas that can be used for many eating occasions.
"At IFG, we are very focused on the consumer. We start with the notion that the fruit should taste good and strive to provide an exceptional eating experience for our customers," said Andy Higgins, CEO of IFG.
"Our goal is for each grape to offer a taste and flavour profile that, combined with its aroma, literally evolves into a total eating experience. While we have traditional grape flavours at IFG, we also have many unique flavours that appeal to a number of ages, cultures, and tastes."