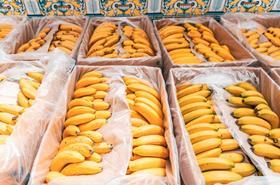 Spain's fresh fruit and vegetable imports increased between January and October 2021, reflecting an 'increasingly competitive and globalised market', according to Fepex.
For the ten-month period, Spain's fresh produce imports rose 6.3 per cent in volume to 2.9m tonnes and 4 per cent in value to €2.67bn, the country's Department of Customs and Special Taxes reported.
The import of vegetables increased to 1.2m tonnes, 2 per cent more than during the same months of 2020, at a value of €694m.
Potatoes led the way at 660,223 tonnes, followed by tomatoes (148,009 tonnes), green beans (96,260 tonnes) and onions (91,407 tonnes).
Fruit imports came in at 1.7m tonnes, representing growth of 10 per cent, at a value of €1.98bn (up 4 per cent).
Bananas were the most imported fruit with 304,738 tonnes, 18 per cent more than in January-October 2020, followed by avocados with 194,537 tonnes, up 26 per cent.
There was also growth in apple imports, climbing 6 per cent to 151,406 tonnes, pineapples, up 15 per cent to 135,408 tonnes, kiwifruit, up 12 per cent to 130,815 tonnes, and watermelons, rising 3 per cent to 112,397 tonnes.
By contrast, orange imports fell 9 per cent to 166,201 tonnes.

'A wide range of imported fruits and vegetables is observed, reflecting the diversification of purchases and a continuous positive evolution is also observed, encouraged by the regulatory framework, both in the productive and commercial fields,' Fepex noted.