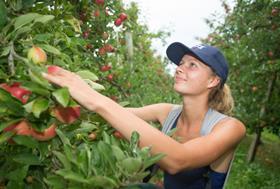 German-based BayWa Ag said it saw a positive increase in its agriculture business for the first quarter of 2019, buoyed by high demand in agricultural machinery and equipment.
The company said its Global Produce business unit (formerly listed as Fruit) increased marketing volume compared with the same period last year.
BayWa said in a press release there is expectation that the upcoming New Zealand apple harvest will help along moderate profit margins in Germany due to low apple prices across Europe.
The company's agriculture revenue amounted to €2.8bn (US$3.14bn) in the first quarter of the current year. EBIT stood at €6.1m (US$6.85m) in the same reporting period.
BayWa is the majority shareholder to New Zealand-based fresh produce company, T&G Global at 73.99 per cent.