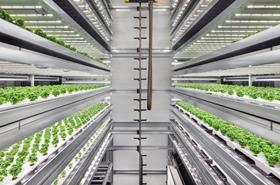 Urban farming company Infarm has signed a contract for a new growing centre in Greve, Copenhagen. The facility will measure 6,508m2 in size, offering more than 3,800m2 of growing space in Infarm's cloud-connected farming units.
The growing centre is currently in construction and the first harvest is planned for the end of this year. When fully equipped, the units will be able to produce more than 11m plants per year.
Infarm noted that, from the facility, it would be able to deliver its herbs and salads to retailer distribution centers across Denmark.

The group's produce is already available at 68 Irma stores across the Copenhagen area.
According to the company, each Infarm growing centre can save up to 10m litres of water per year, reducing water consumption by 95 per cent versus traditional agricultural methods.
Furthermore, Infarm's growing method requires 95 per cent less land and 90 per cent less transportation.
In Denmark, Infarm has a renewable energy certificate for its electricity consumption, with a Guarantee of Origin based on 100 per cent wind power.
'This new growing centre will expand our capacity to deliver fresh, sustainable, Infarm produce to all categories of Danish retailers nationwide,' said Daniel Kats, executive vice president of sales at Infarm. "We'll also be able to accelerate the delivery of new herbs, salads, and even mushrooms to Danish consumers, as we gain insights to serve the wider Scandinavian region in the future."
Therese Scherer, country director Nordics at Infarm, said: "Denmark is a very important market for Infarm. The demand for fresh and sustainable produce is high. With our new growing centre, we are increasing our local production in Denmark – year round and independent from seasons."
Infarm will continue to operate its existing growing centre and will start hiring soon. "We will increase the local team to about 50 people in the mid- to long-term planning, opening up the first new positions in the next couple of weeks", Scherer added.
The news follows the company's August 2021 announcement of plans to open one of Europe's largest urban farming facilities just north of London. By the end of 2025, Infarm plans to expand to 100 locations worldwide.