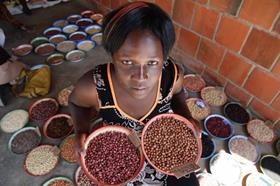 Achieving the Sustainable Development Goals and eradicating hunger are impossible aims without increased investment in protecting biodiversity, according to the President of the International Fund for Agricultural Development (IFAD), Gilbert F Houngbo.
The warning came ahead of Houngbo's participation at the IUCN World Conservation Congress, which commences today in Marseille.
The IUCN World Conservation Congress will see governments, civil society, Indigenous Peoples, scientists and business unite to champion initiatives to address the most urgent environmental and sustainability challenges.
"Biodiversity is a cornerstone of healthy and sustainable food systems," said Houngbo. "From protecting pollinators, to improving soil fertility and building resilience to the effects of climate change, biodiversity is fundamental to addressing global hunger. But the clock is ticking. We need to increase our investments to protect biodiversity before it is too late. Our future depends on it."
IFAD has itself announced a commitment to concentrate 30 per cent of its climate finance on supporting nature-based solutions in rural small-scale agriculture by 2030.
It said that such solutions promoted the "proactive conservation, management and restoration of natural ecosystems and biodiversity" in order to counter the challenges of climate change, food and water security, and health.
The aim is to "promote a healthy biosphere, increasing productivity and improving food security, nutrition and resilience to climate change", IFAD stated.
"Rural communities and small-scale farmers have a vital role to play. They are dependent on biodiversity, but are also important custodians of it, growing a wider range of species and varieties than large-scale farms," said Houngbo.
Eight out of ten of the world's poorest currently live in rural areas, with the majority dependent on farming for their livelihoods. "They are also the ones most likely to go hungry," IFAD stated.
Better agricultural biodiversity on small-scale farms has the additional benefit of producing healthy, productive soils that sequester more carbon, thereby making an important contribution to carbon storage.