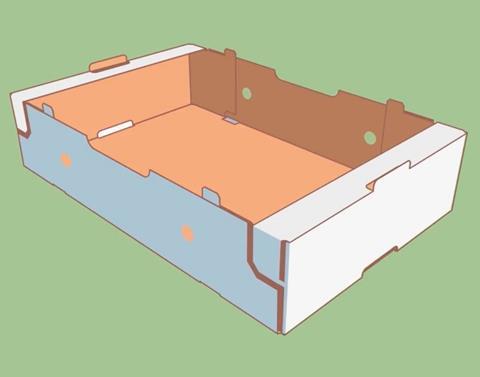 Two new corrugated packaging designs, one that provides citrus with a less bumpy journey to market and one that reduces the weight and volume of items being shipped, have won a couple of prestigious design awards for Brussels-based company International Paper.
Designed in Turkey, the group's V50 Citrus Box picked up a Good Design Award during the recent Design Week Turkey; its EConTray, meanwhile, scooped a Conai Eco-Friendly Packaging Award, presented by Italy's National Packaging Consortium.
The idea of fruit being delivered from the other side of the world on some kind of magic carpet that prevents damage to the product while avoiding any kind of detrimental impact on the environment might seem far-fetched, but the V50 Citrus Box appears to bring that reality a major step closer.
A total of 50 air vents and channels apparently provide optimal ventilation for the long-distance transportation of lemons and mandarin oranges, ensuring the fruit is delivered fresh, while enhanced cushioning is said to help extend shelf-life. The entire package can be recycled after use.
EConTray's design, which features thinner carton material, is understood to offer improved logistics when it comes to the logistics of packaging and shipping fresh fruit and vegetables.
By using so-called 'EC combined flutes', a type of corrugated cardboard packaging, International Paper said it had been able to create more internal volume and reduce pack weight, resulting in more flat-trays per pallet, optimised warehouse storage and faster internal handling.
"We're extremely excited about receiving recognition for several of our innovative box solutions this year," commented Eric Chartrain, vice-president and general manager of International Paper's corrugated packaging in EMEA.
"We always strive for 'driving for better together' with our customers and create outstanding value for them. These awards are an excellent confirmation that our innovation efforts are widely recognised by the industry."