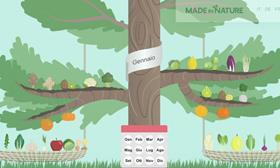 European organics campaign Made in Nature has unveiled a Seasonality Tree to mark the start of organic pear campaign in Italy.
The tree, which has been created to inform consumers about the seasonality of Italy's organic fruit offer, can be viewed at the Made in Nature website (www.madeinnature.org/tree).
The first available varieties, Carmen and Santa Maria have been produced by the Brio cooperative, with Williams, Abate Fetel, Conference and Kaiser coming through in the coming weeks.
"Thanks to the high quality of our harvested fruit we can be optimistic about the 2020 pear campaign", said Mauro Laghi, Brio's commercial manager. "Our Carmen, Santa Maria and Williams pears will arrive in supermarkets with our Alce Nero brand, the trademark of high quality organic production."
The pears, which come from the regions of Emilia Romagna, Veneto and Piemonte, are prized for the taste and the ethical conditions under which they are grown.
Our organic pears come from companies which respect international working standards and workers' rights," Brio said.
Italy is the largest pear producer in Europe, with an annual harvest of more than 730,000 tonnes. Organic production has been developed in recent years and now accounts for 5-6 per cent of the total volume, or around 40,000 tonnes, according to CSO Italy.
Last season Italy exported 145,000 tonnes of pears, including around 10,000 tonnes of organic pears. The main markets are Germany (62,000 tonnes) and France (21,000 tonnes), followed by Switzerland, Scandinavia and Austria.
Germany took 4,000 tonnes of organic Italian pears last year, while a further 1,500 tonnes were shipped to France.
Made in Nature is a three-year project, launched last year and funded by the European Union and CSO Italy, to promote the culture of organic fruit and vegetable growing in Italy, France and Germany.