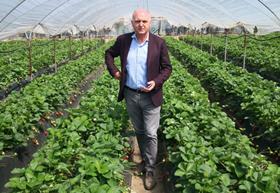 'Fruit & Veg: Natural Health!' is a new European project from the Gruppo ViVa producer association in Italy, with the aim of promoting strawberries, which are cultivated in the country all year round.
Gruppo ViVa is the leading producer of strawberries in Europe, growing 8,300 tonnes in the 2020 campaign.
Pietro Ciardiello, director of group member Coop Sole, commented: "The season of our strawberries begins in autumn, in September, with seedlings that begin to produce in November and December with excellent results. The Italian Caprill variety proves to be good to eat and suitable for our very high quality standards.
"Subsequently, from December to February, the strawberries obtained from rooted bud seedlings come into harvest, and we have the Melissa and Fortuna varieties, both with high quality standards. Finally, from March onwards, the strawberries obtained from fresh plants arrive, with very rustic and disease-resistant varieties that allow us to produce with zero residue, using beneficial insects."
As part of the project, the nutritional benefits of strawberries are highlighted on a dedicated website by nutritionist Martina Donegani.
Ciardiello said that the group paid close attention to the health properties of the product. "We already have 25ha in organic production and 10ha in conversion," he said. "So far we are very satisfied with the start of the campaign. Starting from the autumn we have had strong demand for the product, higher than supply, so production prices have been more than satisfactory."
Until a few years ago, Ciardiello said, autumn production was mainly intended for export, but domestic demand has greatly increased. "Botanically, strawberries are a winter product requiring low temperatures to bloom," he said. "This characteristic, thanks to research in the nursery field, has made it possible to have constant production without any force. In Europe, the strawberry has long been considered an all-year-round product and this trend will develop more and more in our own market."
According to CSO, consumption of strawberries continues to develop in Europe, and in Italy there remains plenty of room for growth. In Italy, consumption stands at 1.56kg per inhabitant per year, compared with 1.85kg in Spain and 2.96kg in Germany.
Gruppo ViVa unites Apofruit, Canova Codma OP, Coop Sole La Mongolfiera, Pempacorer-Terremerse, Solarelli, Ortoromi and OP Terra di Bari.