Colombian supplier is first to use chemically recycled plastic material produced by StePac in partnership with BASF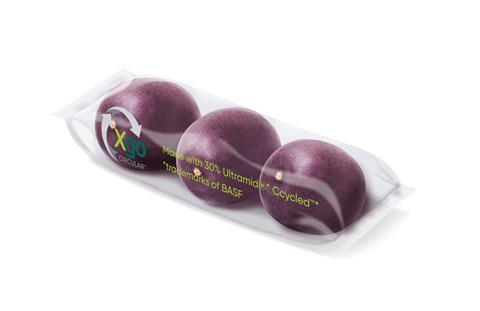 Colombia's Jardin Exotics is the first fruit exporter to use what is described as "the next generation" of sustainable fresh produce packaging.
BASF and StePac have joined forces to create the packaging, which uses a brand of recycled plastic called Ultramid, supplied by BASF.
Initially, this will make up 30 per cent of its packaging material, although the companies say this percentage could increase further in future.
Jardin Exotics plans to use StePac's Xgo Circular, which incorporates Ultramid, for passion fruit shipped to Europe by sea.
Supplied as film for horizontal form fill-and-seal, the packaging slows the ripening process and preserves the fruits quality during that long voyage.
Packed at source in retail-ready formats, it also eliminates the need for repacking on arrival.
Repurposed plastic
Ultramid is produced by a trademarked chemical process, which reforms waste plastic that would otherwise have been used for energy recovery or sent to landfill.
According to the partners, this offers greater flexibility and a more sustainable source of contact-sensitive packaging.
"This alliance will help strike a balance between creating plastic packaging that is as eco-friendly as possible to keep fresh produce longer through more prudent use of lean plastic films," comments Gary Ward, business development manager at StePac.
"These upgraded packaging formats will continue to maintain their role of significantly reducing food waste, a most important task considering that global food waste is responsible for about 8 per cent of anthropogenic greenhouse gas emissions."
Greener protection
For StePac, chemically recycled plastics represent an important route to sustainability when it comes to the packaging of fresh, perishable products.
The company recently gained REDcert2 certification. This allows it to incorporate Ultramid – known to scientists as a chemically recycled polyamide 6 – into its flexible, modified atmosphere packaging (MAP) products.
StePac's Xgo and Xtend brands use MAP technology with built-in humidity control to slow products' respiration, delay ripening, inhibit microbial decay, and preserve their quality and nutritional value – even during prolonged storage and long-haul shipment.
Marketed as ChemCycling, BASF's plastic waste recycling process is different to mechanical recycling and is seen as a faster way to yield food-grade recycled plastic.
"In a thermochemical process, our partners obtain recycled feedstock from these end-of-life plastics, which is then fed into the BASF Verbund", explains Dominik Winter, vice-president of BASF's European polyamides business.
"Using a mass balance approach, the raw material can be attributed to specific products, such as Ultramid Ccycled. This helps to replace fossil raw materials and is an important step towards circularity. As chemically recycled plastics have the same quality and safety as virgin material, the scope of plastics that can be recycled for fresh produce packaging is widened."