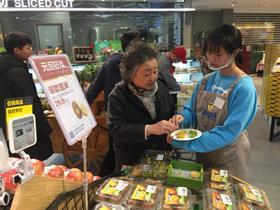 Italian kiwifruit marketer Jingold sees good potential for growth in the Asian market on the back of continuing investment in new varieties.
As the company prepares to return to Hong Kong for Asia Fruit Logistica in early September, international development manager Federico Milanese says new productdevelopment remains a hugely important element in its overall export strategy.
At the trade fair, those new varieties will be centre stage. "First of all will be red kiwifruit Dong Hong, winner of the most recent Fruit Logistica Innovation Award, and our new variety Boerica, branded Jingold Bliss," he tells Fruitnet.
"This is making a very positive impression in Asia and we are confident we can double our volumes during the next commercial campaign. It will also be an important moment to introduce our organic varieties Jingold Organic Gold and Jingold Green Organic to the international market."
The consortium's Shanghai office will coordinate new promotions and advertising in China this season, supported by CSO Italy and an EU-backed consumer campaign.
Having 12-month supply thanks to its partnership with producers in South America will also help, says Milanese, as will opportunities to explore even newer markets like Australia.
Last time around, a comparative lack of fruit in Europe helped push up prices on the international market, but increasing competition from other European sources and local producers in Asia continues to complicate matters for the consortium.
"The Chinese market has experienced a decline in recent years, mainly due to better quality of local production and competition from countries such as Greece," Milanese notes.
However, he believes the strength of the Jingold brand will be decisive. "It promises to be a very interesting season!"