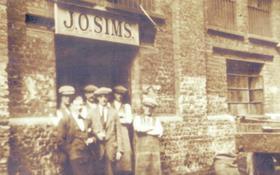 JO Sims, the Lincolnshire, UK-based fresh fruit and fruit snack grower-supplier, is celebrating 125 years in business.
The company, which is headed up by fourth-generation family member Christopher Sims, farms over 1,000 acres of cherries, apples, peaches, nectarines and apricot orchards worldwide.
It is also the UK's largest supplier of cranberries and wild blueberries.
According to JO Sims, the first 94 years of trading saw the business grow to become one of the UK's largest importers of fruit from Europe and the US.
However, it was when Christopher Sims took on the role of managing director in 1990 that the group transformed.
He was the driving force behind the formation of cherry farming partnerships across four continents, enabling JO Sims to increase the volume of cherries it could supply and ensure it had a hand in managing quality.
JO Sims own the largest fresh cherry packhouse in the UK and its latest venture in 2021 saw it take over the management of its own UK cherry farm; Broomfield Ridge in Worcestershire.
This latest agreement marked an expansion to the Sims' UK cherry ventures, as the company looks to achieve its goal of 52-week availability of fresh cherries.
In the UK, JO Sims owns its own state-of-the-art fruit breaking and blending facility, whilst its European operations produce 'best in class dried apple and infused dried fruits'.
"Achieving 125 successful years in business is not easy and it certainly couldn't be done without the amazing support of our supply partners that we have forged relationships with across all areas of our business in fresh fruit, ingredients and healthy snacks,' said Christopher Sims. 'Our customers, of course have been a huge part of our success too; trusting us time and time again to supply the best-in-class products.
"I would like to thank our loyal staff, whose energy, enthusiasm, knowledge and hard work has meant that we can continue on our inspirational journey,' he added. 'There are endless possibilities for new product developments in fruits and I am looking forward to where the next 125 years takes the business."