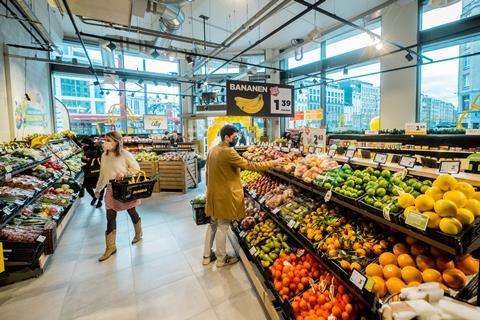 Dutch retailer Jumbo has opened its first Jumbo City neighbourhood store in the Belgian city of Antwerp.
Located at Terniersplaats close to Antwerp Central station, the brand new 600m2 outlet is aimed squarely at urban shoppers.
With a prominent fresh produce department, it has a notable emphasis on convenience, and also offers a large organic range.
"We are extremely proud of the new store and the enthusiastic team is ready to offer residents and visitors of Antwerp the best food and shopping experience," said Valentijn Van de Velde, the store's co-manager.
Martijn Vis, also co-manager, added: "We want to spoil our customers with an extensive range of daily groceries, tailored to the needs of the inner-city customer.
Customers will also find fresh meals, as well as tasty and healthy products to eat at home or on the road.
"The fresh meals, To Go products and products from the bakery are tailored to the different eating times of the day," Vis explains.
"For example, customers can enjoy delicious breakfast, lunch and snack products from our own bakery and an assortment of sliced ​​fruit, juices, smoothies and La Place coffee.
"Fresh pizzas, sandwiches and chicken from a hot grill can also be found there. Customers can take a shortened route through the store and pay in no time at the self-checkout counters."
Jumbo has made a name for itself in the Netherlands – and more recently in Belgium – with its so-called Seven Certainties.
These are: always low prices, service with a smile, full range, fresh is 'really fresh', easy shopping, money-back guarantee, and putting the customer's wishes first.
"We have already opened 15 Jumbo stores in Belgium and have therefore noticed that Belgians are embracing our one, one, and one formula,' says Peter Isaac, managing director of Jumbo Belgium.
"I am therefore very proud that we are now opening this Jumbo City in Antwerp and that Belgians can also get to know our inner-city store. The Terniersplaats in Antwerp is the perfect location for this.
"The location is a frequently used hub for travelers who use public transport and the cycling and walking route from Antwerp Central Station to the shopping streets."