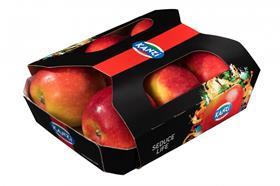 The marketing of the European Kanzi apple harvest is almost complete, according to variety manager GKE, with the first fruit from the Southern Hemisphere now ready to be marketed.
A smooth transition from domestic produce to imports means it is possible to offer Kanzi lovers their favourite apple at any time of the year, GKE noted.
According to the group, Kanzi is growing in popularity, with new GFK data confirming that brand awareness in Germany has risen 'significantly' over the past year.
'Kanzi producers in Europe, with a focus on Germany, the Netherlands, Belgium and South Tyrol, can look back on a successful campaign,' GKE stated. 'The excellent quality and outstanding taste have ensured good sales in recent months.
'Fruit growers are also aware of this and are showing a growing interest in the cultivation of Kanzi. As before, however, the cultivation possibilities remain limited to a few predestined growing regions in the countries mentioned. However, Kanzi is also being planted for local markets in Great Britain, Switzerland and Austria.'
Kanzi marketing organisations, together with producers and the trade, have supported the sales process with several different activities in recent months, including the chance to win a trip to the 'Big Apple' as part of a pan-European sweepstake.
Meanwhile, Kanzi producers have been taking care of the new harvest, from pruning the trees in winter to making bees and insects feel at home in spring.
In addition, the companies that market Kanzi have also recognised the signs of the times, and are now offering more and more plastic-free and environmentally friendly packaging variants.