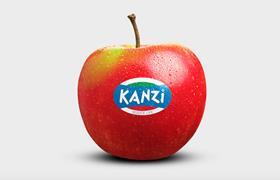 This season, the quality of the Kanzi apple crop is especially high, according to GKE NV, the Kanzi brand's variety manager. Despite challenges including frosty nights during the flowering period and extremely hot days toward the end of the growing season, Kanzi growers have expressed satisfaction with the new harvest, both in terms of volume and calibre.
Favourable weather conditions, including good temperatures and sunshine, reportedly helped to produce typical Kanzi calibres of 65-85mm for the bulk of the crop, which the company said would largely cover the increasing demand on the market.
For the start of the season, Kanzi has developed programmes for retailers and consumers in order to cement Kanzi's number two position in the world of branded apples, GKE revealed. "Kanzi will continue to build on the great sales performances in its key markets in the past seasons," the company stated. "Supported by market research, expansion into newer markets will be pursued structurally. Consumer research shows that the sweet-tangy taste and juicy crunch of Kanzi perfectly fits the taste profile of a wide consumer base. Furthermore, the ideal size profile of Kanzi allows it to satisfy all kinds of market demands."
To mark the arrival of the new harvest, Kanzi organised a pan-European marketing campaign to inspire customers and consumers, sharing the Kanzi story and offering insights into the work of Kanzi's growers.
"Trend research shows that consumers expect more transparency about the way their food is produced," the company said. "Based on this trend, a new 'digital first' campaign has been put in place with a strong focus on online media to show consumers interesting facts about the production and harvest process of Kanzi."
In light of the Covid-19 pandemic and the limitations on off-line activities such as sampling and in-store tasting, Kanzi has opted for display banners on online tools such as YouTube, social media and Google in order to reach consumers.
The first stage of the pan-European Kanzi campaign is set to run from week 40 to week 44, with the aim of reaching 10m consumers. In individual markets, local market partners will apparently work on brand awareness and sales promotions through country-specific marketing campaigns.
"The current positive commercial development of the brand makes growers decide to invest in Kanzi for the coming years," said Dietmar Bahler, CEO of GKE. "The planting programme is on track and that will enable us to grow in line with increasing market demand."