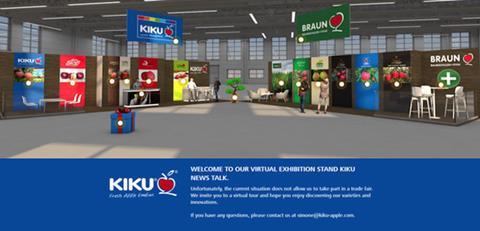 Always willing to try something new, apple specialist Kiku has responded to the recent absence of any physical industry trade fairs by creating its own virtual exhibition stand, apparently a first for a private company.
For a brand marketer that relies heavily on communicating regularly with a large number of international marketing partners and commercial customers, the idea of not being able to present its latest news to companies all over the world was one it simply could not entertain.
So instead it set up Kiku News Talk, an invitation-only virtual space in which it was able to present information and connect with people on behalf of its two family companies, Braun Nurseries and Kiku Variety Management.
As chief executive Jürgen Braun explains, in any normal year it is hugely important for its staff to speak to people in the business, and this year was no different. In 2020/21, the aim was not just to update them on the progress made by each of the group's five brands – Kiku, Issaq, Swing, Crimson Snow and Red Moon – but also to mark a very special anniversary.
"During Interpoma, it would have been exactly 30 years since my dad went to Japan," he explains, referring to his father Luis Braun's serendipitous visit to a Japanese orchard.
There, he discovered a chance apple mutation from which he bred Kiku Fuji 8, the sweet, ruby red variety that was the original seed of Kiku's success. "Yes we can celebrate this in 2021, but I just wanted to do something to mark the occasion."
Kiku News Talk, which opened immediately after Interpoma in November, has welcomed a large number of commercial partners from around the world, as well as breeders, journalists, academics and scientists.
In fact, Braun says, the reaction was so positive that it remained active well into 2021 and will eventually be converted into a free website that provides information about four specific areas: nursery operations, club varieties, sustainability, and the 30-year anniversary.
"The empty period was too long for us, because we are used to meeting our partners and developing relationships," Braun adds. "For us, the primary objective of a fair is to network, take care of human relationships and make friends. So we needed to do the digital fair independently, with our own style. We want to be the driver of the event."