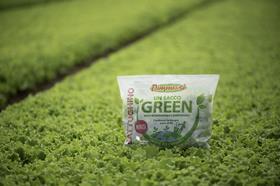 One of Europe's largest marketers of bagged salads, Italian group La Linea Verde, has taken a major step forward in terms of its environmental sustainability with the launch of Un Sacco Green (A Green Bag), a new range of salads packed in fully biodegradable and compostable material.
According to the company, the slightly milky appearance of the bioplastic being used will stand out on supermarket shelves, aided by bright, eye-catching messages around defending the environment.
Un Sacco Green is a sub-brand of DimmidiSì, which is used to market a range of fresh-cut produce and healthy, convenience foods across several markets in Europe.
The plastic itself, meanwhile, is the result of a collaboration between three companies: Novamont, Ticinoplast and Carton Pack.
Supplied under the registered trademark Mater-Bi, the material is designed to degrade and become compost or fertiliser – a claim substantiated for the European market by certification body TUV Austria.
The Un Sacco Green range includes a total of five different product lines - Gaia, Valeriana, Misticanza, Rucola and Lattughino. Products used for the last three of those are all produced exclusively in Italy.
'Un Sacco Green salads represent the fulfilment of an ambitious and demanding 'environmentally friendly' project,' commented Andrea Battagliola, commercial director of La Linea Verde.
'We are bringing to market a new possibility for the consumer: to make a green choice when presented with a clear, simple and concrete offer on the shelf. We are particularly proud of it, also because it is the result of collaboration between some of Italy's leading technical experts.'