As the season kicks off, Belgium cooperative BelOrta says improved availability of locally grown raspberries is helping to increase domestic consumption of the fruit
Belgian cooperative BelOrta has announced the sale of the first locally grown raspberries of 2023, of the Kwanza variety, produced by Kwekerij De Koning of Etten-Leur and purchased by Ann De Rijck of Brussegem.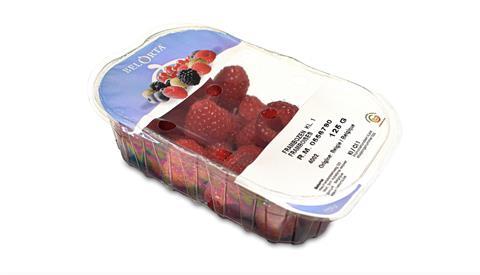 "Last year, BelOrta producers supplied more than 1,000 tonnes of raspberries," the cooperative revealed. "Our main variety remains Kwanza. In addition to a delicious taste, this variety is also characterised by its firm red fruit, longer availability and a long storage period. This makes them also suitable for further export."
The domestic soft fruit season kicks off with raspberries, before blackberries, blueberries, redcurrants and cherries join the range in the coming weeks and months.
Over the past decade, the popularity of locally grown berries, including raspberries, has increased significantly, according to BelOrta. Consumption of raspberries has tripled, it said, compared with ten years ago.
"This increase can be explained, among other things, by the greater and longer availability of locally grown raspberries," the cooperative stated. "That availability increased as a result of innovative cultivation techniques, the spread of varieties and the arrival of new varieties. After all, until a few years ago, locally grown raspberries were only available for a few months.
"In addition, there is also a greater interest among consumers. Where the number of uses used to be somewhat limited to dessert, today we notice that raspberries are used in just about every dish and time of day. And don't forget that they are also delicious on their own."